Guilin Photos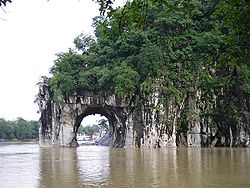 Guilin (Chinese: 桂林, Pinyin:Guìlín)

Municipality 1,340,000

Situated at 25°16′14″N 110°17′31″E

The scenery of Guilin has been called the finest under heaven. Situated in the northeast of Guangxi Zhuang Autonomous Region, Guilin City is South China's shining pearl, with verdant mountains, elegant waters , magnificent crags and fantastic caverns.

Elephant Trunk Hill stands majestically in the downtown area of Guilin city, at the junction of the Li River & the Peach Blossom River .


The 83-km-long waterway from Guilin to Yangshuo is the masterpiece of Li River, decorated with rolling hills, steep cliffs, fantastic caves, leisurely boats and lined bamboos.