Xian Food Guide
Xian (Chinese: 西安, Pinyin:xian)

Municipality 8,252,000, Metro: 2,670,000

located at 34°16′N 108°56′E / 34.267°N 108.933°E / 34.267; 108.933

Since the 1990s, as part of the economic revival of interior China, the city of Xi'an has re-emerged as an important cultural, industrial and educational center.
Xi'an is honored as the "Capital of Delicacies". The chefs in the Shaanxi province have accumulated styles and tastes from around the country, and adjusted them to the local flavor. A trip to Xi'an will not be complete without trying out its local food. The mouth-watering cuisine and snacks listed below are available everywhere in Xi'an.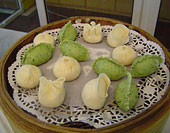 Jiaozi (Dumpling) Feast
One of most visitors ' favorite meals is a Chinese dumpling feast. These dumplings are made in all kinds of shapes such as duck, chicken, rose flower, walnut, and pumpkin. Each pastry shell is stuffed with a different combination of meats and vegetables and then steamed or fried. The aroma, taste, culture, and exciting environment make it extremely popular and worth your while to join in the fun.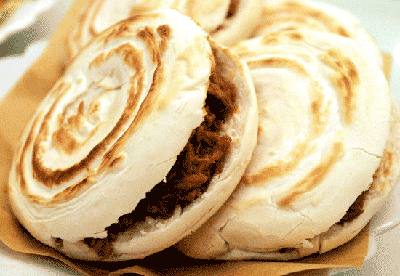 Rou Jia Mo (Chinese Hamburger)
Rou Jia Mo, also called Chinese Hamburger is very similar to the Western hamburger essentially. "Rou" means beef or mutton, which is stewed for hours in a soup consisting of over 20 kinds of spices and seasonings, while "Mo" is a type of flatbread, which is made of wheat flour. After "Rou" is finely chopped, mixed with coriander and mild peppers, and stuffed into "Mo". It can be found in many street food stalls or restaurants.

Liang Pi (Cold Rice Noodles)
Liang Pi is a specialty dish originating from Xi'an and has spread to many other places in China, in particular the northern and central regions. It is like a kind of salad but made of wheat gluten chunks and wheat starch noodles, dressed with cucumber, cilantro, bean sprouts, chili oil and dark vinegar. This would be a perfect appetizer.

Guan Tang Baozi
Another one of Xi'an's culinary delights is guantang baozi, or rather "steamed buns filled with sauce". Your choice of mutton, beef, prawn, vegetable, or a combination thereof. The best place to pick up this hearty delicacy is at Jia San Soup Parcel Restaurant on Muslim Snack Street. Look for the massive, vaulting blue archway that marks the entrance to steamed bun heaven.