Xi'an Tour - Xian Travel Guide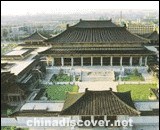 Overview
Xi'an is a museum city dotted with the historic relics of the past dynasties, from the restored city walls to the majesty of the Terracotta Warriors, Xi'an will delight travelers today, as it did centuries ago as the staring point of the famed Silk Road. There are 544 key units of cultural relic under protection and over 5700 sites within the city. In 1981, it was authorized by the UNESCO as a world-famous historic city. Xi'an tour is your top choice travelling in China.
know more
As the capital of Shaanxi province, Xi'an has a history of more than 3000 years, it is one of the four Great Ancient Capital Cities together with Athens, Rome and Cairo. Xi'an has been the capital of 12 dynasties, though it has been known as various names, most notably as Chang'an. It was also the starting point of the Silk Road, where camels were loaded for their long and perilous journey to Central Asia. Xi'an's links to Central Asia goes beyond trade as Islam continues to have an influence on the local flavor through the Muslim Hui minority.
As dynasty after dynasty added their own mark to Xi'an, the relics of old palaces, temples and tombs abound throughout the city and surrounding countryside. The tyrannical Qin dynasty emperor Qin Shihuang, with his capital at Xianyang, close to present day Xi'an, left his indelible mark through the famed Terracotta Warriors. It is a must see attraction about Xi'an tours.
The Tang Dynasty is considered one of China's golden ages for its unmatched cultural achievements. Trade reached Central Asia and Europe, thousands of students from Japan and Korea arrived in Xi'an to study the Tang cultural, and Chinese monks traveled to India to copy Buddhist sutras. At its zenith during the Tang dynasty, Xi'an was the world's largest and more cosmopolitan city, measuring 84.1 square kilometers with over one million residents.
Though Xi'an was large, it was not affected by the incomprehensible twisting and turning lanes of similar cities of the era. As the first planned city in China, it was organized into a neat grid layout, highly symbolic in geomancy. The layout of Xi'an city would influence other cities such as Beijing, etc.
Nowadays, the Xi'an city's charm lies in its historic atmosphere, there's a palpable sense of past glories, vestiges of its history are ever present.
One can easily imagine the sights and sounds of Xi'an at the height of its glory when wandering along the city walls or strolling through the old Muslim quarter. Xi,an travel guide you to discover this ancient city.
Xi'an Tour - Must See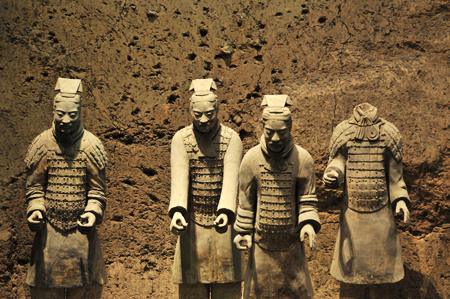 The Terracotta Warriors: In 221 B.C, for the first time in its history, China was united under one emperor, Qinshihuang of the Qin dynasty. The Qin emperor's influence far out lived his short dynasty. Like many autocrats, Qin Shihuang had an early start on his own mausoleum....more

Xi'an's City Walls: The massive walls measure 12m high and 16m side at the base, tapering to 12m to 14m and is 13.74km in corcumference. The surviving walls, built on Tang dynasty foundations, date to the Ming dynasty and were built during the 14 century. The scenery at the south gate is the best...more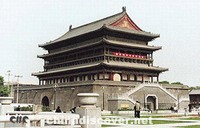 The Bell Tower, In the downtown area of Xi'an at the intersection where the North, South, East and West Streets meet, stands a magnificent classical building, with carved beams and painted rafters. It is known as the Bell Tower. It has gained its name from the function it used to perform, to tell the time in the morning....more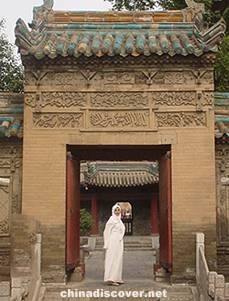 The Great Mosque: Located in Muslim district along Hujue Lane, the Great Mosque is short walk from the Drum Tower and the Bell Tower at the center of town. The mosque, which is still an active place of worship and was established by the Tang dynasty in AD 742 for Muslim traders from Central Asia who settled in Xi'an....more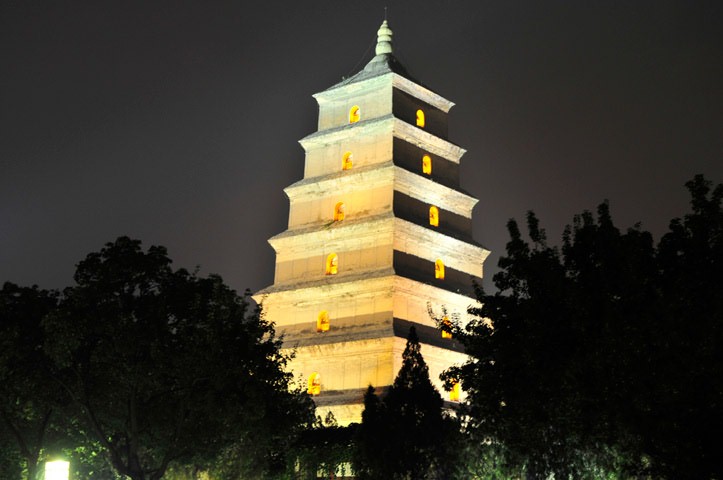 Big Wild Goose Pagoda: It was built to house and protect Buddhist scriptures collected by Chinese monk, Xuan Zang, who spent 17 years traveled to India and back for their collection and an equal mount of time did the translation. The big Wild Goose Pagoda is regarded by many as a symbol of the Xi'an city.....more