Impression Lijiang - Book Tickets Online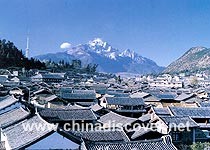 Lijiang (Chinese:

丽江

, Pinyin:

lijiang

)

1,137,600

21,219 square km (8,192.7 sq mile)

The old town of Lijiang has a history more than 800 years and was once a confluence for trade along the old tea horse road.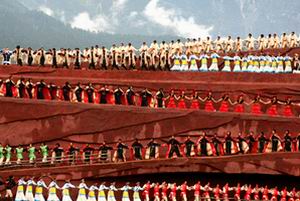 Impression Lijiang is a magnificant outdoor production held on a huge man-made stage at the foot of the Jade Dragon Snow Mountain, 3,100m (10,170 feet) above sea level, near Lijiang city in southwestern China's Yunnan province since July 23, 2006.
the performance with the mountain setting simply providing a breath-taking location and backdrop. For this production, Zhang Yimou used over 100 horses and employed 500 local minority people selected from 16 different towns and villages. Important also, is that the cast was selected from 10 different ethnic Chinese minorities as the show itself is a celebration of minority culture in the area.
>>Videos (section)
Impression Lijiang is one of the most fascinating, beautiful productions in the world. It tugs at you from the root of your heart. The People of the tribes, the Dong Ba culture, the Mountain Spirits, Nature, the Altitude, the Music, etc., which hits you all at once. You know exactly why there are tears in your eyes.
Click >> Impression Lijiang Photos Gallery
Click >>Impression Lijiang Maps
Know More
Impression Lijiang is a series of musical performances that largely portray the life of the Naxi and Mosuo minority people. Westerners might initially be surprised by the matriarchal context of the performances depicting the women going to work while the men laze around, get drunk and sing songs to make their women proud. It should be considered that both cultures are quite different to most others, even to that of Han Chinese culture. The Mosuo are a strictly matriarchal culture while the Naxi (which is officially regarded as a parent culture to the Mosuo) has substantial matriarchal elements. To balance things out there are performances that depict the famous tea trading of Yunnan, which was a dangerous activity for the men of the time as it involved negotiating the infamous and treacherous mountain Tea Trail. Such trading, however, has completely died out in recent decades.
The performances of the show, coordinated by assistant Wang Chaoge, exhibit excellent music and choreography - building several times to moving climaxes. The costumes and set pieces by set designer Fan Yue resulted in fascinating and colourful performances. Afterwards, the performers also invite you to pray and burn wishes in a giant cauldron. While its location does sound remote and difficult to reach, it's relatively easy to travel there although there are admittedly some obstacles. It's closest to the small city of Lijiang ("small" in terms of Chinese cities) which is one of the only cities of its size that has its own airport.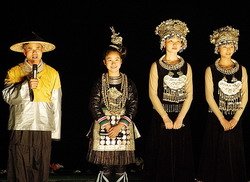 Zhang Yimou is a renowned Chinese director, his films are quite well-known globally. Zhang was also the chief director of the opening ceremony of Beijing 2008 Olympic Games.
Zhang Yimou is well known for his films but much less is known about his creation of a series of the world's first outdoor scene performances in China know as the "Impressions", including "Impression Liu Sanjie," "Impression Lijiang" and "Impression of West Lake."
In 2003, Zhang with his assisant Wang Chaoge and designer Fan Yue created the first installment of their outdoor Impression series, Impression Liu Sanjie, with the mountain and river scenery of Yangshuo as a backdrop. It's a world-renowned scenic beauty spot in south China.
Since 2006, the second impression "Impression Lijiang" contributed the original life of China's minority people to visitors. The outdoor stage sits on Jade Dragon Snow Mountain (also known as Yulong Mountain) at an incredible elevation of 3100 metres. visitors from all parts of the world are moved by the grand shows, the honest actors,etc. Most of them with tears in their eyes when watching the great shows.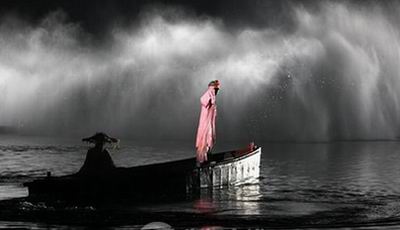 Impression West Lake is the third impression which staged entirely upon the West Lake (a stage has been built 3 centimeters below the surface). It is a spectacle of light, music, dance and theatrics. The story is based on a Hangzhou legend. Using the lake and its surroundings as props, lights and hundreds of actors create a sensational performance. This visual spectacle is becoming a major draw for visitors in Hangzhou, for everyone to experience the beauty of China.
Book Impression Lijiang Tickets Online
Ticket Class

Show Time

General Ticket

30$

9:00----10:10 am/

11:00----12:10 am/

14:00-----15:10 pm

VIP Ticket

41$
Service includes: Ticket + delivery to your hotel or apartment in china.
100% refund guarantee
Thousands of our clients have paid through PayPal to book tickets in this way. If you have not received your tickets, we guarantee to send 100% refund to your paypal account.
How to book Impression Lijiang Ticket
Step 1: Pay by PayPal
Please click the "Add to Chart" button, you will visit the secured page of PayPal. Our PayPal Account is: HRC Worldwide Hotel & Travel Service Limited.
Step 2: Ticket Confirmation Voucher
After you have paid sucessfully via PayPal, you will return automatically to our website.
We will send you a Ticket Confirmation Voucher.
Tickets will be put in an envelope with your name, and be put in the reception desk. When you check in the hotel, ask for this envelope. In case you do not receive your ticket, ask the hotel reception staff to phone us at: 020-37251788 immediately.
Need to cancel the ticket
No cancellation fee if you change or cancel the booking 72 hours prior of the show day.  We will send the refund to your paypal account.   PayPal charges for transaction fee sometimes.
If you cancel the booking in 72 hours, no refund.  
Need to change to another show day
Please inform us 72 hours prior of the show day. If we can not change to the required day, we will inform you as soon as possible, we will recommend another day, or send the refund to your paypal account as required.