Impression West Lake - Book Tickets Online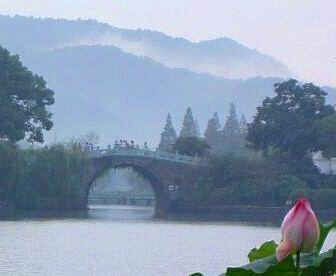 Hangzhou (Chinese:

杭州

, Pinyin:

Hángzhōu

)

6,776,400

16,596 square km (6,406.1 sq mile)

Hangzhou is renowned for its historic relics and natural beauty. It is often known as one of the most beautiful cities in China.
Staged entirely upon the West Lake (a stage has been built 3 centimeters below the surface), Impression West Lake is a spectacle of light, music, dance and theatrics. The great show contributes visitors a fascinated outdoor performance as well as a great chance to experience the beauty of China. The story is based on a Hangzhou legend. Using the lake and its surroundings as props, lights and hundreds of actors create a sensational performance.
Show time
Daily 19:30-20:30 (Mar., Apr., Nov., Dec..), 19:45-20:45 (Other months.)
Notice: The show is temporarily closed from 17/12/2018 to 9/3/2019 due to weather condition and facility maintenance.
Know More
Hangzhou city lies in Zhejiang Province, about 200km from Shanghai. "In heaven, there is paradise; on earth, it's Suzhou and Hangzhou". This popular saying captures very well the charm of Hangzhou. Marco Polo once said that Hangzhou was the most beautiful city he had ever seen in his life. Hangzhou's fame mainly lies in its picturesque West Lake, also known as Xi Hu.
Zhang Yimou is a renowned Chinese director, his films are quite well-known globally. Zhang was also the chief director of the opening ceremony of Beijing 2008 Olympic Games. Impression West Lake is Zhang's third Imression, the other two are Impression Liu Sanjie and Impression Lijiang. Zhang's outdoor productions are believed to be the best in the world.
>>Impression West Lake Videos (section)
Impression West Lake is renowned Japanese composer Kitaro's soundtrack to Zhang Yimou.
Click >>Impression West Lake Photos
Click >>Impression West Lake Maps
Impression West Lake - Legend of the White Snake
As the story goes, a female white snake demon, Bai Suzhen or Lady White, dreams of becoming a goddess. So she takes on mortal form and steps into the human world. On the broken bridge of the West Lake, she meets a handsome scholar Xu Xian, who saved her life in the previous life. The two fall in love and get married.
A monk intervenes in order to save the scholar's soul and casts Lady White into a deep well at the Leifeng Pagoda.

Over time, the tale has evolved from a horror story to one of romance. Together with other legends of the lake, it rests quietly in every corner within the landscape.
Set around Su Causeway and Curved Yard and Lotus Pool, on the water of Yue Lake, is the musical's natural stage.
When the night falls, colored lighting shrouds the lake, with hills and water as its backdrop.
Lady White walks across the water to meet her lover Xu Xian coming in a small boat. The stage is set three centimeters below the lake and can descend a further half a meter.
When the light fades, visitors can see fish and lotus lanterns - played by hundreds of actors - glimmer in the dark. And with the help of modern technology, a "bridge of heaven" rises into the sky, uniting the long-separated couple at end of the play.
Audiences from all parts of the world wil be fascinated by the spectacle.

According to some visitors who had enjoyed the marvelous shows:
"I'm from Taiwan. I'm deeply touched by "The legend of the White Snake". It is such a splendorous production. I've never seen anything like it anywhere else in the world."
"I'm from Poland. I'm here for the second time. It's so fantastic, so beautiful. I'm coming back once more for sure. Because each time, it's completely different. It's enormous beautify, which I adore so much."
Map of the Show Area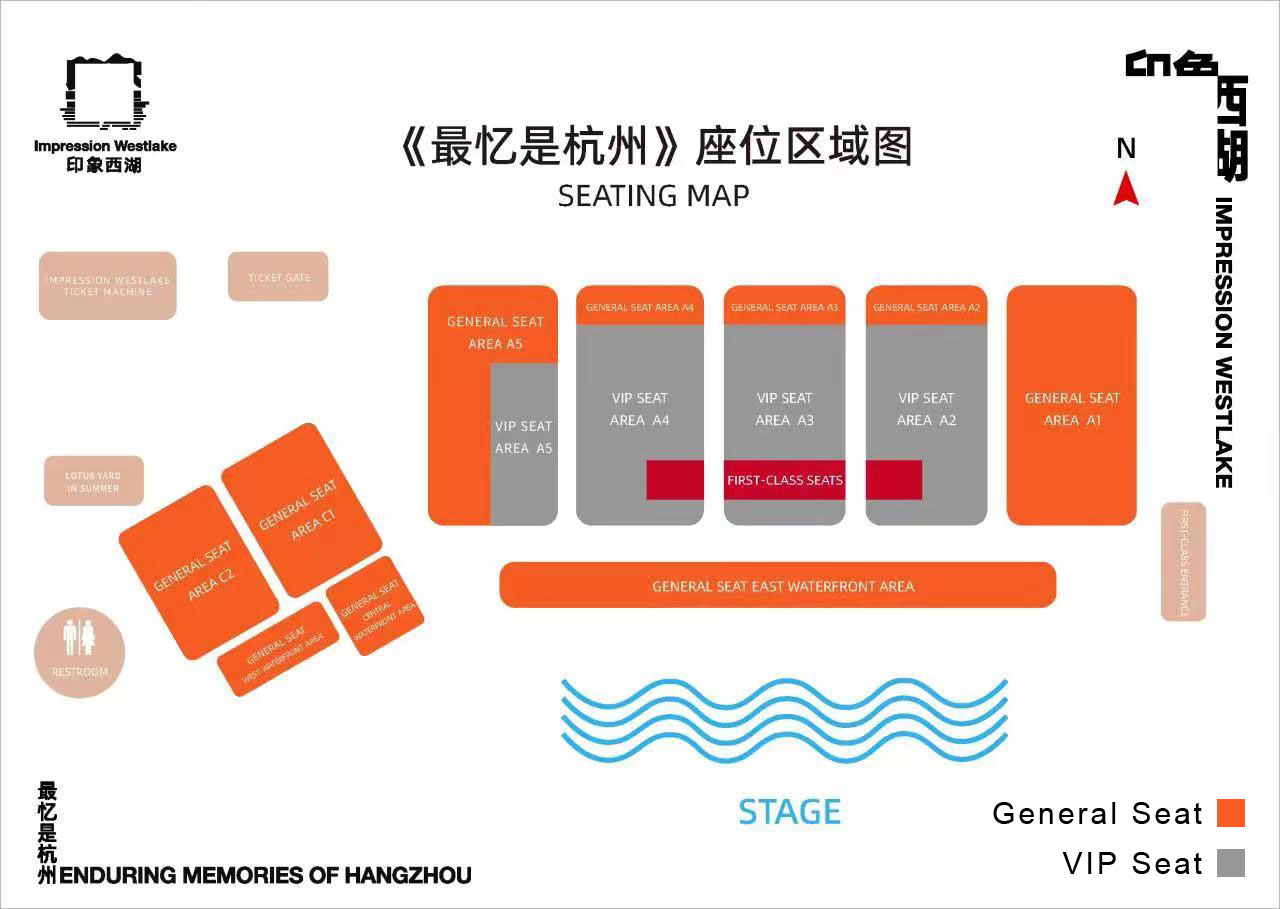 Quotation
Service includes: Ticket + delivery to your hotel or apartment in china.
| | |
| --- | --- |
| Type of seats | Price in USD |
| Normal Seats | 56 |
| VIP Seats | 61 |
| Upper Floor of Boat | 104 |
Book Impression West Lake Tickets Online
100% refund guarantee
Thousands of our clients have paid through PayPal to book tickets in this way. If you have not received your tickets, we guarantee to send 100% refund to your paypal account.
How to book Impression West LakeTicket
Step 1: Pay by PayPal
Please click the "Add to Chart" button, you will visit the secured page of PayPal. Our PayPal Account is:
HRC Worldwide Hotel & Travel Service Limited.
Step 2: Ticket Confirmation Voucher
After you have paid sucessfully via PayPal, you will return automatically to our website.
We will reserve seats, send you a Ticket Confirmation Voucher.
Tickets will be put in an envelope with your name, and be put in the reception desk. When you check in the hotel, ask for this envelope. In case you do not receive your ticket, ask the hotel reception staff to phone us at: 0086-20-37251788 immediately.
Need to cancel the ticket
No cancellation fee if you change or cancel the booking 72 hours prior of the show day.  We will send the refund to your paypal account.   PayPal charges for transaction fee sometimes.
If you cancel the booking in 72 hours, no refund.  
Need to change to another show day
Please inform us 72 hours prior of the show day, we will check the availability for seats. If we can not change to the required day, we will inform you as soon as possible, we will recommend another day, or send the refund to your paypal account as required.