Hulishan Fortress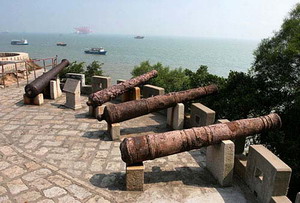 Hulishan Fortress is a nationally key historical and cultural site. In August, 2000, it is listed into "the complete collection of Guinness World Records of the year 2000". The Fortress, built in the 20th year of the emperor Guangxu's reign (1894), has more than 100 years' gloomy history of rise and fall. The base of the fortress is made of the mixture of camphor tree sap, liquid brown sugar, glutinous rice, clay and sand.
Therefore, it is rather solid. The fortress is composed of the barracks, the secret tunnel, commanding tower, sentry platform, the ammunition depot, the trench, the castle, etc. The rectangular castle made of granite rocks occupies an area of 13,000 square meters.
Xiamen had been an ancient battlefield where Xiamen people resisted imperial aggressors in the history. It played an important role in resisting foreign aggressors. There are east and west emplacements with two main cannons (only one left now) bought from the Krupp Company of Germany. The whole length of the cannon is 13.13 meters and its weight is 50 tons. The caliber of the cannon is 280 mm and its maximum range of fire is 16,000 meters. The fortress displays more than 50 iron cannons of the Ming Dynasty and the Qing Dynasty unearthed from the Xiamen waters and the building site of capital construction. The East and West emplacements are connected by a tunnel. There are military camps at the exits of the tunnel. As a coastal defense fortress, there is a trench outside and a patrolling path inside. It is the only cannon of the same type being left in the world. It really can be called "King of the Cannon in the World" and is really a precious historical relic.
In 1986, platforms of yearning for return are built at the forward position of the fortress. The tourists observe Dadan and Erdan Islands under Jinmen's jurisdiction through telescopes. In recent years, the fortress yard has been cleaned up and large-scale wall carvings "national soul" is newly built, demonstrating the course of warehousing weapons, reviving military forces and resisting strong enemies with a profound artistic conception. "Rong Spring" is newly built on the left side of wall carvings, which is quite novel. Behind the wall carvings the small garden with evergreen grass has many sculptures and golden ball cactus. A leisure and sightseeing pavilion built in the high place is harmonious and natural with the surroundings. The scenic spot of Moonlight Rock is opened up in the north of the small garden with additionally set "dragon spring waterfalls", "a line sky", and "the poem wall of Hulishan fortress".