Huang Feihong Kungfu Museum

Huang Feihong was a great Chinese kungfu master. Huang Feihong Kungfu Museum is located at his native residence, Luzhou village, at the foot of Mount Xiqiao of Nanhai, with a total area of 5.23 mu.
Huang Feihong has been a jianghu hero in the modern Chinese history, leaving behind
a lot of legendary stories. About 100 films have been made about his heroic deeds and over 40 Huang Feihong wushu coaching schools have been set up in the different parts of the world, teaching Chinese kungfu.
This Museum followed the architectural style of late Qing Dynasty,
presenting a distinctive construction pattern. Huang Feihong Shiyi Wushu Museum was built in 1996, with the aim to carry forward Huang Feihong's Wushu and medical ethics. The Museum is divided into Huang's native residence, screen and video room for displaying Huang's activities, Baozhilin Dispensary, acupuncture and Tuina room, orthopaedics clinic, herbal medicine clinic, Guan Dexing memorial hall.
The interesting entertainments include the statue booth of "ten Wushu masters of Guangdong province" and Huang Feihong Park as well as traditional performances such as kungfu, "dragon-playing" and "lion-playing" ,etc., which will be performed from 10:00 am to 4:00 pm every day. All these performances are attractive to many domestic and overseas tourists. Furthermore, there are Huang Feihong screen and video town, Huang Feihong Wushu school and Huang Feihong Wushu village.
About one hundred movies and teleplays concerning Huang Feihong have been filmed in Guangdong province, Hong Kong and Macao since half a century ago, of which 77 movies and teleplays acted and filmed by Guan Dexing, a late well-known actor of Hong Kong. Some of the well-known Chinese Wushu stars such as Li Lianjie and Zhao Wenzhuo, etc, have been Huang's image-builders for showing his elegant demeanor again. Huang Feihong is a revered Wushu master and famous both at home and abroad.
Tours in Guangzhou:
Chimelong Paradise Park Chime International Circus
Chimelong Water Park Xiangjiang Safari Park
One day Guangzhou tour One day Foshan tour One day Zhaoqing tour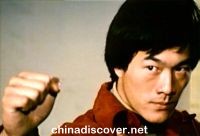 Bruce Li, the famous martial arts master, suddenly became a kung fu film star famous in Southeast Asia and the U.S. and Japan.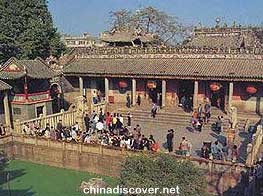 It is the first temple in foshan, and with a long history.Ancestor Temple is also called the Zumiao Temple,being built during the Yuanfeng period of North Song Dynasty (1078-1085).