Foshan Ancestor Temple (Zumiao Temple)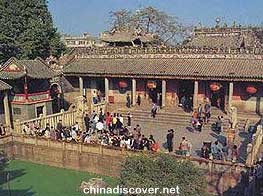 Foshan Ancestor Temple with a long history can be traced back the North Song Dynasty(1078-1085). It is one of the main cultural relics of Guangdong province as well as one of the most famous tourist sites in Guangdong. In 1949, it was converted into Foshan Museum.
It is dedicated to Beidi (Northern Emperor), the Northern God, who is said to have power over the waters of Guangdong, so the temple also known as "Northern Emperor Temple". It is the first temple in Foshan, located at the urban area of Foshan's Chancheng District, covering an area of 3500 square meters.
The original buildings of the temple were burnt down in the late Yuan Dynasty and reconstructed in the fifth year of Hongwu Period, Ming Dynasty (1372). Owing to its long history, Chinese called it Zumiao temple. Now it was recognized as a key protection unit of historical and cultural relics of Guangdong Province and managed by Foshan Museum.
The temple is composed of such buildings as Wanfu Platform, Lingyin Torii, Jinxiang Pond, Zhonggu Garret, Three Gates, Front Hall, Main Hall and Qingzhen Garret, etc in line with the central axial. Prior to setting up local administrations in Qing Dynasty, Zumiao Temple, other than a simple one, was a place aimed at discussing official business.
All of its construction materials, or even decorations and furnishings were donated by various industries and mainly produced locally. Typically, Zumiao Temple reflected of the famous foundry and potting handicraft industry in Foshan history. In turn, the refinement and beauty of its architecture reflected of the prosperity of ancient Foshan. In deed, it's a precious historical heritage of Foshan. Therefore, Ancestor Temple is granted the reputation of "Oriental Art's Palace" by visiting foreign friends.
Tours in Guangzhou:
Chimelong Paradise Park Chime International Circus
Chimelong Water Park Xiangjiang Safari Park
One day Guangzhou tour One day Foshan tour One day Zhaoqing tour

The Museum was built in 1996, with the aim to carry forward Wushu and medical ethics of Huang Feihong. It is divided into Huang's native residence, screen and video room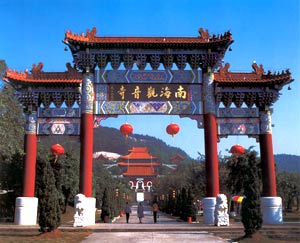 Coupled with clustered trees, the total occupying area of the cultural ground in front of the Temple amounts to over 40 mou, offering a resting-place for visitors