Foshan Tourism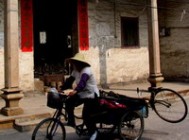 Foshan ( Chinese: 佛山, Pinyin: foshan)

Prefecture Level: 3,389,000

Located in the mid-south of Guangdong Province, China, Foshan is at the heart of the Pearl River Delta ("PRD").

Foshan has many sights, including Chinese temples and other examples of Chinese architecture. The old Zu temple in Foshan houses the city's guardian, where it has stood for hundreds of years.
Overview
Foshan is a historical and cultural city, located in the center of Guangdong province. It has been the center of the southern school of Chinese wushu, and maintains the titles of Hometown of Martial Art. As one of the four famous towns, Foshan has rich historical and cultural heritage. More over, it is the cardle for Guangzhou opera (Yue opera).
Know more
Foshan covers an area of 3,813.64 km2 and has a population of 5.3379 million. Enjoying a humid subtropical climate, the weather is mild all the year round in Foshan, and the annual average temperature is 22°C.
In the 2nd year of the Zhenguan period of the Tang Dynasty(628 AD), three statues of Buddha were unearthed from Tapo Hill in the city, and a stone tablet inscribed with the name of Foshan. The Tang and Song dynasty were marked as the two most important periods for the significant business flourishing in Foshan. It was crowned as a desirable place for handicraft industry, business and cultural activities.
Colorful Culture of Foshan
Foshan is especially rich in traditional and culture, and its traditional handicrafts and earthen wares have been flourishing for centuries, well know for its elegant design and fine craftsmanship. For example, Foshan colored ceramics, earthen wares, ceramic carvings, woodcarvings, paper cuts and architectural decorations.
Foshan built the first historic culture community of Guangdong in 1999 and also successfully built many cultural places, like Huang Feihong Memorial Hall, Yue Opera Museum, Liangyuan Museum, Nan Feng Gu Zao Tourist Zone and so on. Traditional Chinese culture activities are quite welcome here, including Yue opera, paper-cutting, and dragon dance traditional lantern.
Folk Festivals in Foshan
There are many colourful folk-custom and folk festivals are held in Foshan each year, such as Nanhai and Sanshui's Dragon Boat Matches, Foshan's Lion Dance Match, the Foshan's Autumn Scenery Festival, Shiwan's Pottery Art Festival, Shunde's Flower Expo, etc.
Bruce Lee
Bruce Lee , the greatest Kungfu master, was from Shunde district of Foshan. He started to practise Kungfu when he was young. Bruce Lee carved his name in Hollywood in 1970s as a famous international film star of Chinese kungfu (martial arts). He is famous both at home and abroad.......more
Foshan Tourist attractions
Foshan is a beautiful historical and cultural city and attracts millions of tourists every year. Some of the top tourist attractions are Kungfu Museum, Ancestor Temple, Liangyuan Park, Xishan Temple, Nanhai Temple, Sanshui Lotus World, Mount Xiqiao, Jinsha Beach and so on.
Must see
Tours in Guangzhou:
Chimelong Paradise Park Chime International Circus
Chimelong Water Park Xiangjiang Safari Park
One day Guangzhou tour One day Foshan tour One day Zhaoqing tour