Shenzhen Food Guide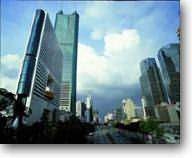 Shenzhen ( Chinese: 深圳, Pinyin: Shēn zhèn)

Urban: 4,000,000

Situated immediately north of Hong Kong.

Shenzhen's modern cityscape is the result of the vibrant economy made possible by rapid investment since the late 1970s, when it was a small fishing village.
Overview
As a new immigrant city, Shenzhen has collected various Chinese cuisine styles, especially Guangdong cuisine. Many local styles of Chinese cuisine flourish in Shenzhen, such as Sichuan, Beijing, Shanghai, Hunan, northeast China, Guangxi and northwest China dishes. Each has its trump card and is favored by diners.
You may also enjoy special food from many countries and regions. Various
large star-hotels serve western food as well as traditional dishes of Southeast Asia. Moreover, Shenzhen's morning and evening teas are very appealing.
Know More
Shenzhen cooking is characterized by the combination of different cooking methods and ingredients. Guangdong style cuisine is particularly popular here which is beautifully presented and delicately flavored, and Hunan cooking is less hot and spicy in Shenzhen than in its home province!
.
International cuisine is also strong here. Thai, Vietnamese, Japanese, Indonesian and Korean food is available throughout the city in many of the large hotels. The Japanese restaurant in The Grand View Hotel is particularly good.
Famous Food Streets
Yantian Harbor Seafood Gourmet Street, located at Yantian in the east of Shenzhen, the street teems with seafood restaurants. The dishes are mainly in the Hakka, Chaozhou and Shantou styles, emphasizing fresheness.
Splendid China Food Street, located on scenic Shenzhen Bay, the street boasts a collection of various dishes from all around the country. The nine famous restaurants include Shuangyu Seafood Restaurant, Daixianglou Restaurant, Zhongyuan Food Collection, Qinhuai Restaurant, Shaanxi Reataurant, Lingnan Restaurant, Korean Barbecue, Bakey on Iron Sheet and Old Dry Bean Curd Restaurant.
Must Try

With Chengdu dishes as its representative, Sichuan Cuisine features a strong sour, sweet, hot, spicy and delicious flavors and heavy oil. Its main dishes are Stewed Snow Pig, Dry-Stewed Fish and Three-Delicacy Rice Crust.

It carries on the merits of Manchu ethnic dishes and further absorbs the cream of various cuisine styles, especially that of Shandong and Beijing, forming its own distinct flavor and tender content.

Beijing cuisine pays attention to tastes and shapes fo dishes. Beijing Roast Duck, Dumpling and Instant-Boiled Mutton are among its famous dishes.

Shandong dishes evolved out of dishes from Jinan and Fushan. Jinan dishes pay particular attention to soup cooking whereas Fushan dishes are famous for seafood. Famous dishes include Sweet and Sour Yellow River Crap, Curling Sausage and Stir-Fried Double Crisp.