Shenzhen Tourism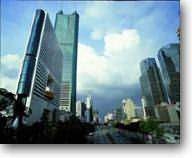 Shenzhen ( Chinese: 深圳, Pinyin: Shēn zhèn)

Urban: 4,000,000

Situated immediately north of Hong Kong.

Shenzhen's modern cityscape is the result of the vibrant economy made possible by rapid investment since the late 1970s, when it was a small fishing village.
Overview
Shenzhen is the first special economic zone of China, located in the southern part of Guangdong province. Shenzhen Window of the World is a famous tourist attraction here, it is a collection of famous world sites in miniature.
In 1979, under the policies of reformist leader Deng Xiaoping, Shenzhen successfully became the first special economic zone of China. Demarcated from HongKong by the river and bordering Kowloon, the city is usually considered as the "backyard" of HongKong.
Know more
Shenzhen covers an area of 2,020 square kilometers and has a population of 4.05 million. Enjoying the humid subtropical climate, the weather is mild all the year round. The best seasons to visit Shenzhen are spring, autumn and winter. Guangzhou-Shenzhen Railway, Guangzhou-Shenzhen Express and Beijing -Kowloon Railway link Shenzhen to many other cities. Bao'an International Airport in Shenzhen is one of the largest in China.
History of Shenzhen
At first, Shenzhen was known as Bao'an County. According to the ancient records, it was called Shenzhen since 1410 during the Ming Dynasty. By literally,Shenzhen means "deep drains", because there are so many streams and rivers crisscrossed in this region. Besides, there were deep drains in the paddy fields, so the local people called the drains in paddy fields "zhen". In 1979, Shenzhen was promoted to prefecture level, and governed by Guangdong province directly.
Shenzhen tourism
Shenzhen tourism has been booming all the time since 1980s with a dozen historic relics, newly built modern attractions and tourist resorts.There are many excellent theme parks, such as China folk culture village, Window of the World , Happy Valley of Shenzhen and Splendid China and so on.
Some other famous tourist attractions are Botanical Garden, Honey Lake Holiday Village, Nan'ao Bay, Lichi Park, Shiyanhu Hot Spring Villa, Xiaomeisha, Maluan Mountain and Dafen oil painting village, etc.
The Sea World of Shenzhen is well known for the Minghua ship and the sea world plaza. It offers colourful celebration during the Chinese New Year, such as performances of Chinese wushu(martial arts), lion dances, wooden drum blessing, etc.
Must see