New Year's Eve Dinner Cruise
From Dec 24 to Dec 31, you can take fireworks cruise to enjoy the spectacular world-renowned laser show A Symphony of Lights, gorgeous view of Victoria Harbour and fabulous architectures on its shore.
Dinner Cruise on December 31
Notice: During major events, all passengers on cruise are required to provide the following personal information for the sole purpose of veryfying the safety of every person carried on board (your info will be highly protected):
(1) Full Name in English (same as HK ID/ Passport Name); (2) Gender; (3) Date of Birth
Please provide the full list of guests information while booking.

* Children under 2 years old will not be admitted for the Countdown Party Cruise.
2019 New Year's Eve Countdown Cruise (Free seating) (Dec.31, 2018)

Time
23:15pm - 01:00am
Price
USD 95
Ticket Booking
Full
Pier
North Point (East) Passenger Ferry Pier, Hong Kong
Include
Year 2019 Countdown fireworks show.
Each passenger can have one drink, snack and gift, live band performance, cruise sightseeing in Victoria Harbour and Countdown
2019 New Year's Eve Dinner Cruise (Dec.31, 2018)

Time
17:45pm - 19:15pm
Price
USD 95
Ticket Booking
Full
Pier
North Point (East) Passenger Ferry Pier, Hong Kong
Time
19:30pm - 21:30pm
Price
USD 122
Ticket Booking
Full
20:00pm - 21:45pm
Ticket Booking
Full
Pier
(1) North Point (East) Passenger Ferry Pier, Hong Kong
(2) Hung Hom Ferry Pier, Kowloon
Include
Dinner Buffet with Gifts, Live band performance and Cruise sightseeing in Victoria Harbour surrounded by Christmas decorations
Download Dinner Menu | Booking Tips | Map
More cruises for Christmas holidays
Christmas Eve Dinner Cruise (Dec.24-27, 2018)
Time
17:45pm - 19:15pm
Price
USD 95
Ticket Booking
Pier
North Point (East) Passenger Ferry Pier, Hong Kong
Time
19:30pm - 21:30pm
Price
USD 122
Ticket Booking
20:00pm - 21:45pm
Ticket Booking
Pier
(1) North Point (East) Passenger Ferry Pier, Hong Kong
(2) Hung Hom Ferry Pier, Kowloon
Include
Dinner Buffet with Santa Claus visit, Christmas gifts, Live band performance and Cruise sightseeing in Victoria Harbour surrounded by Christmas decorations
Download Dinner Menu | Booking Tips | Map
Victoria Harbour Cruise - Bauhinia Booking Tips
After you select your preferred cruise and time, click the "Book" button to further fill in your information, and then go on to make payment online by Paypal. After we confirm your booking & payment, a ticket confirmation voucher will be sent to you in 12 hours.
Ticket Confirmation Voucher:
How to get show ticket(s)?
After make payment online to us, the Ticket Confirmation Voucher will be sent to you via email.
You can board the cruise just by displaying the ticket confirmation voucher to the cruise staffs
If it is fully booked, what can we do?
Cancellation Policy
If the cruise is already fully booked on the required day, we will inform you via email as soon as possible. You can choose to change the date or time of cruise
No cancellation or amendment is accepted once the booking is confirmed (you receive our confirmation voucher).
Urgent Booking:
Want to change the show date?
You can directly contact us by Email or call 0086-20-37251788 to make a urgent booking.
Please inform us 48 hours prior to the show day, we will check the availability for seats and contact you as soon as possible.
For more question about this show, please contact our trip advisor.
Top
Map (Click to Enlarge)
Photos of Victoria Harbour Dinner Cruise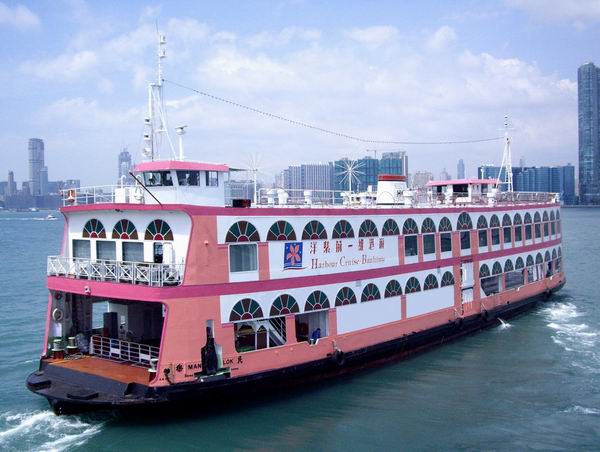 Man Lok
Ship name: Man Lok

No. of Table
Maximum 31 tables of 12 persons each
Maximum Capacity for dinning event
388 persons
Dinning Hall
372 seats
VIP Room

16 seats

Maximum Capacity for cocktail party

450 persons

Maximum Capacity for sightseeing

500 persons
Ship name: Man On

No. of Table
Maximum 27 tables of 12 persons each
Maximum Capacity for dinning event
336 persons
Dinning Hall
324 seats
VIP Room

12 seats

Maximum Capacity for cocktail party

450 persons

Maximum Capacity for sightseeing

500 persons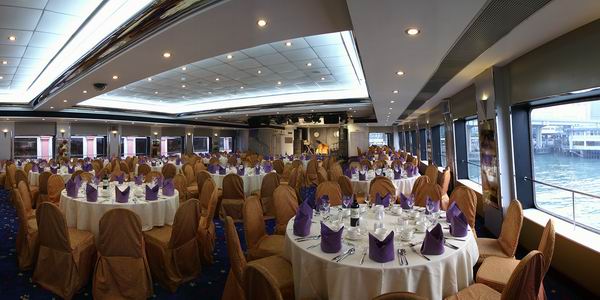 Dinning room of Man Lok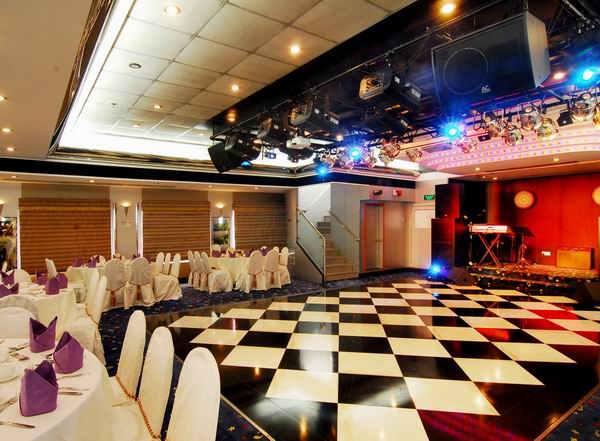 Dancing floor of Man Lok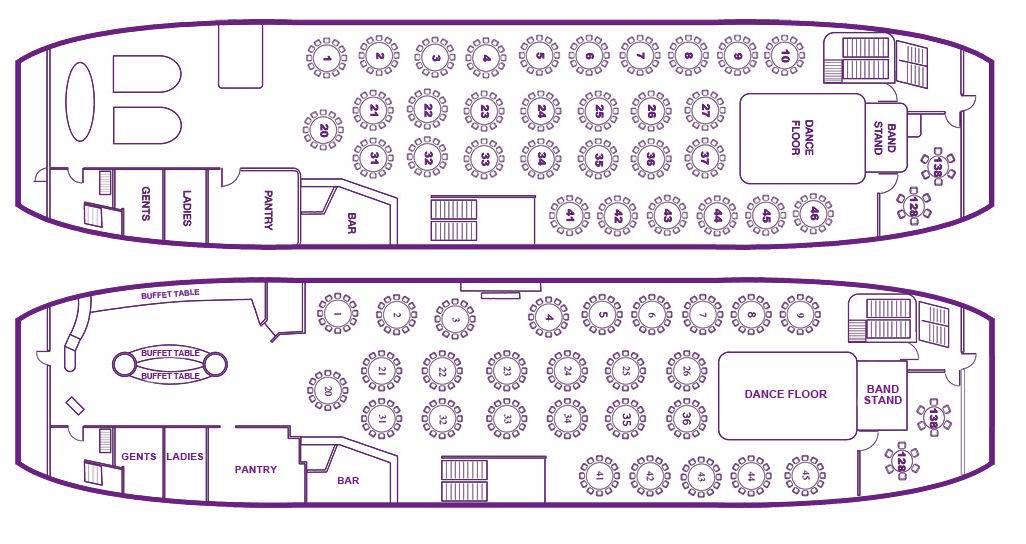 Deck plan of Man Lok
(1) Ordingary Days
A Symphony of Lights Dinner Cruise Sunset Dinner Cruise

(2) Special Events

Fireworks Cruise on Chinese New Year


Fireworks Cruise on July 1
Fireworks Cruise on Oct 1
Christmas and New Year's Eve Countdown Fireworks