Chinese New Year Fireworks Cruise
A splendid fireworks will be presented in the Victoira Harbour Hong Kong to celebrate Chinese New Year. Come to join our cruise, 30 minute of Chinese New Year Fireworks, delicious dinner buffet, life band music, etc.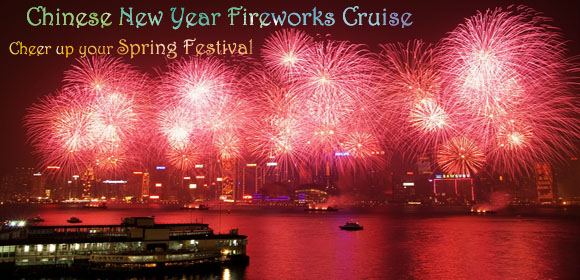 Chinese New Year Fireworks show in Victoria Harbour
Cruise on Chinese New Year
Day

Time

Pier

Price in USD

Include

Feb. 6 , 2019

19:35-22:05
Hung Hom Ferry Pier, Kowloon
136

Fireworks Dinner Cruise
(Dinner buffet, live band performance, cruise sightseeing in Victoria Harbour and enjoying the best view of the fireworks)
Important Notice:
1. Same price for adult and Child.
2. For this special event, after you have paid, your cruise ticket is non-refundable.
3. Guest should arrive at the pier 30 minute prior to the departure time.
4. Please print our confirmation voucher. This voucher must be presented on boarding the cruise ship.
5. Your passport must be presented on boarding.
6. The cruises are operated as usual when typhoon signal No. 3 is hoisted.
7. Guest may need to share a table if necessary.
8. For the beverage, the dinner price included free flow of iced water, coffee and tea. Additional drinks will be charged accordingly. Corkage for self-brought liquor and cutting fee for cakes are required. Corkage fee is HK165net per bottle.
Want to book Hong Kong Victoria Harbour Cruise Ticket?
Please send All Passenger's List to us
Passenger's List Required


Thank you for joining Harbour Cruise – Bauhinia for the Chinese New Year Fireworks Celebration.

As informed by the Marine Department, all passengers on cruise are required to provide the following personal information for the sole purpose of verifying the safety of every person carried on board during major events:

1. Full Name in English (same as HK Id/Passport name)
2. Gender
3. date of birth

After you have paid, please send an email to booking@chinatourguide.com:

Passenger List:
(1) Alexis Lawrence/male/August 23, 2014
(2)

All personal data provided in the list are there to ensure timely actions are taken to rescue every person on board the vessel in an emergency. The list is to be used for a single voyage only, and to be destroyed by the coxswain after the function date.

Under the Personal Data (Privacy) Ordinance, you have a right to request access to, and to request correction of, your personal data in relation to the voyage. If you wish to exercise these rights, please make the request to the coxswain to the vessel.

Children are required to wear life jacket during the whole event for safety reason. Passengers who fail to comply with the regulation are regarded as violation of the Marine Department Ordinance and Harbour Cruise.

Bauhinia reserves the right to prohibit passengers from boarding the cruise.

Thank you for your attention and co-operation!
Piers:
(1) North Point (East) Passenger Ferry Pier, Hong Kong


map of North Point
(2) Hung Hom Ferry Pier, Kowloon


map of Hung Hom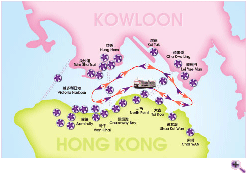 Assembly Time:
30 minutes prior to departure time.
Remarks:
Advance reservation is required and subject to availability.
Prices are not available for fireworks display and special days.
Cruise schedule & price are subject to change with further notice.
A Symphony of Lights
A Symphony of Lights is a synchronised building exterior decorative light and laser multimedia display, featuring 44 buildings on both sides of the Victoria Harbour of Hong Kong accompanied by music. The technology was developed by Australian firm Laservision and cost approximately 44 million HK dollars. It has attracted over 4 million visitors and locals so far, and is held every night for ten minutes.
Guinness World Records has named A Symphony of Lights the world's largest permanent light and sound show.
A Symphony of Lights is staged every night at 8:00 p.m.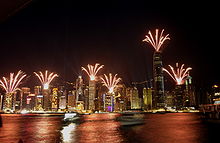 Themes
The Show comprises five major themes, taking spectators on a unique journey celebrating the energy, spirit and diversity of Hong Kong:
The first scene "Awakening" begins with flashes of laser lights that give life to a nucleus of light-energy which gradually illuminates participating buildings using an array of dancing lights and rainbow colour. This scene symbolizes the genesis and powerful growth of Hong Kong.
The second scene "Energy" is represented by the display of rising colour patterns and the sweeping of the lasers and searchlights energetically across the night sky, signifying the vibrant energy of Hong Kong.
In the third scene "Heritage", traditional lucky red and gold colours are displayed across buildings on both sides of the Harbour, complemented by the introduction of music using Chinese musical instruments, symbolizing Hong Kong's colourful heritage and rich cultural traditions.
The fourth scene "Partnership" features a display of laser beams and sweeping searchlights scanning across the Harbour, representing an illuminated connection with the opposite side. Beams reach out to symbolically connect the two sides of the Harbour into one greater and unified partnership.
The finale "Celebration" brings out a powerful rhythmic display of swirling, kaleidoscopic patterns of lights and beams dancing lively across the Harbour. The exciting final scene signifies the celebration of the close partnership between the two sides of the Harbour and represents an even brighter future for Asia's world city - Hong Kong.
Vantage Points
The best viewing locations of this nightly spectacle are along the Tsim Sha Tsui waterfront between the Avenue of Stars and the Hong Kong Cultural Centre, the promenade at Golden Bauhinia Square in Wan Chai, or from sightseeing ferries in the Victoria Harbour.
(Note: "A Symphony of Lights" is for free public enjoyment. No admission ticket is required.)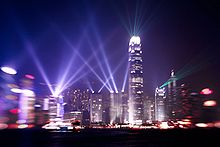 Music and Narration
The music and narration of the Show is broadcast every night along the Tsim Sha Tsui waterfront between the Avenue of Stars and the Hong Kong Cultural Centre, and the promenade at Golden Bauhinia Square in Wan Chai. Broadcast of the soundtrack is in different languages: English on Monday, Wednesday and Friday; Putonghua on Tuesday, Thursday and Saturday; and Cantonese on Sunday.
Spectators can also listen to the music and narration at the harbourfront area by tuning to FM 103.4 MHz (English), FM 106.8 MHz (Cantonese) or FM 107.9 MHz (Putonghua). They can also listen to the same soundtrack via their mobile phones by dialing 35-665-665 (English) or 35-665-668 (Putonghua). Usual service charges will apply.
Pyrotechnic Displays
On some special occasions, the Hong Kong Tourism Board may arrange to enhance the festive ambience through launching pyrotechnic displays in parallel to "A Symphony of Lights".
Suspension of the Show
When Tropical Cyclone Warning Signal No.3 or above or Red/Black Rainstorm Warning Signal is issued at or after 3:00 p.m. on the Show day, the Show will be suspended. No show will be staged even if the Signal is removed before 8:00 p.m. on that day. The Show may also be suspended in emergencies without prior notice.
Photos of Chinese New Year Fireworks Cruise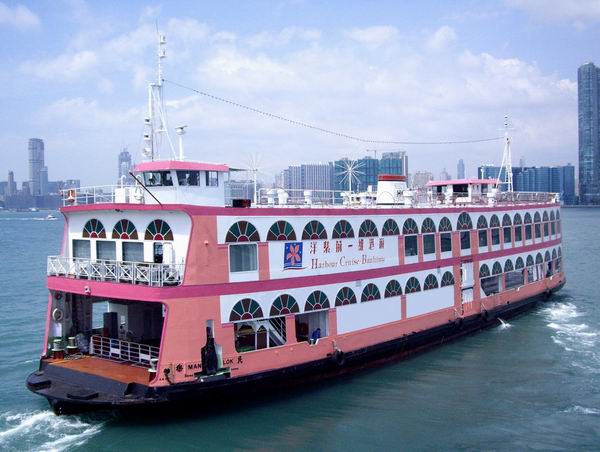 Man Lok
Ship name: Man Lok

No. of Table
Maximum 31 tables of 12 persons each
Maximum Capacity for dinning event
388 persons
Dinning Hall
372 seats
VIP Room

16 seats

Maximum Capacity for cocktail party

450 persons

Maximum Capacity for sightseeing

500 persons
Ship name: Man On

No. of Table
Maximum 27 tables of 12 persons each
Maximum Capacity for dinning event
336 persons
Dinning Hall
324 seats
VIP Room

12 seats

Maximum Capacity for cocktail party

450 persons

Maximum Capacity for sightseeing

500 persons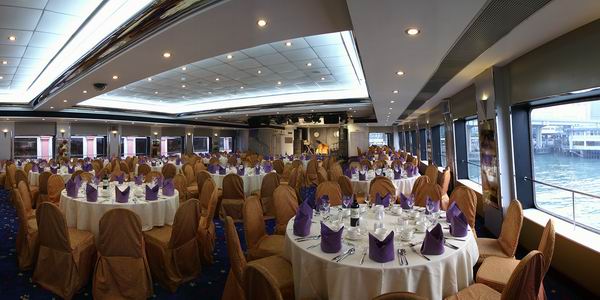 Dinning room of Man Lok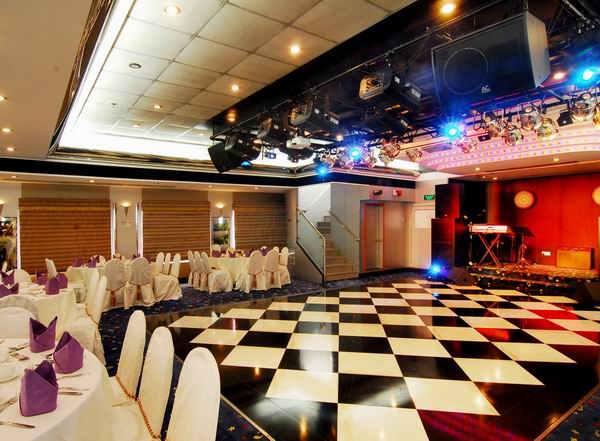 Dancing floor of Man Lok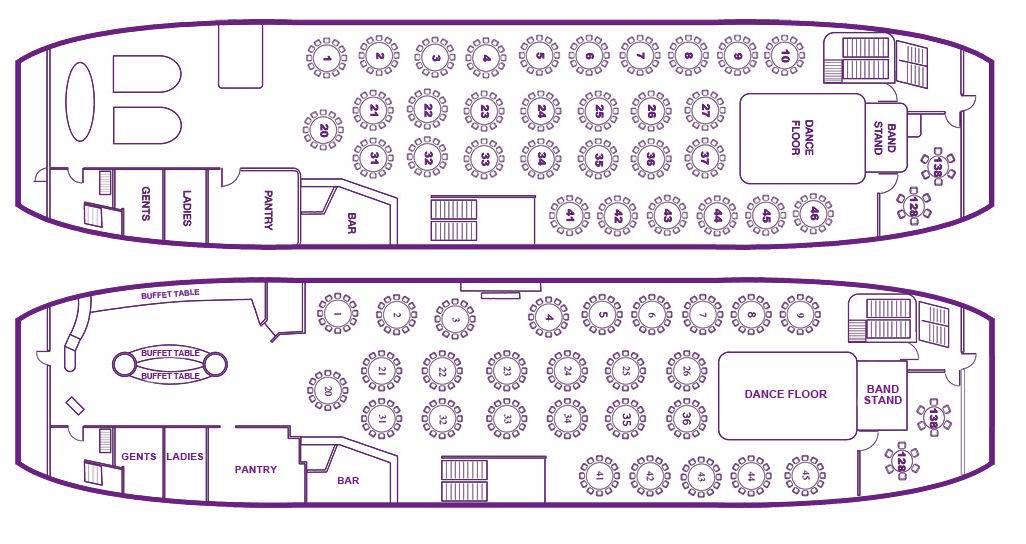 Deck plan of Man Lok
More cruises on other days:

(1) Ordinary Days
A Symphony of Lights Dinner Cruise Sunset Dinner Cruise

(2) Special Events

Fireworks Cruise on Chinese New Year


Fireworks Cruise on July 1
Fireworks Cruise on Oct 1
Christmas and New Year's Eve Countdown Fireworks