Hong Kong Disneyland
Hong Kong (Chinese: 香港 , Pinyin: Xiang Gang)

7,026,400

1,104square km (426 square mile)

The contrasts in Hong Kong are extremely fascinating, of more than 7 million people in habiting here most are Chinese but many Pakistanis, Indians, Europeans and many other nationalities call Hong Kong their home. Hong Kong, is really the area of playing Amongst Skyscrapers.
Hong Kong Disneyland is reputed as the first theme park of China. It is so different from the other disneylands of the world, as it enjoys natural backdrop of verdant mountains and undulating landscape. The ultra-modern holiday resort has been separated in themed lands, such as Tomorrowland, Fantasyland, Adventureland and Main Street U.S.A.
Fantasyland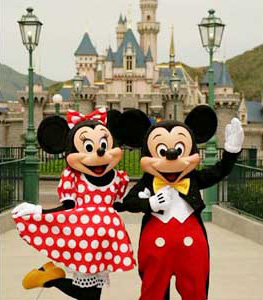 Featuring fantasy gardens where costumed Disney characters can be met, Fantasyland is one of the themed lands at Hongkong Disneyland Park. The main attractions include Sleeping Beauty Castle, Fantasy Gardens, Mickey's PhilharMagic, Fantasyland Train Station, Cinderella Carousel, Dumbo the Flying Elephant, Snow White Castle and Sword in the Stone.
Tomorrow Land
Tomorrowland is mainly to take the visitors to an incredible world and present futuristic fun. It features an emphasis on metallic trim, with lots of blue and purple hubs. Visitors can board a spacecraft and fire cannons at the enemy, or hit the road of future in a space-age automobile.
Adventure Land
As a large island area in Hong Kong Disneyland, Adventureland brimming with astounding adventures. Its being ringed by the Jungle Cruise makes it more entertaining. The main attractions in Adventureland are Liki Tikis, Tarzan's Treehouse, Jungle River Cruise and Tarzan Island.
Main Street U.S.A.
Mian street of U.S.A is quite similar to the Disneyland in California. The main attractions are excursion-style train, Main Street vehicles, Disneyland Story and City Hall.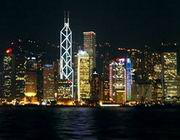 Victoria Harbour is one of the most popular tourist attractions in Hong Kong, is flanked by impressive skylines. The harbour is known for impressive views and scintillating public shows.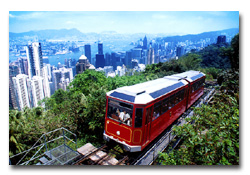 Victoria Peak is high above Hong Kong Island on the 'back of the Dragon', Victoria Peak is Hong Kong's premier visitor attraction, providing magnificent harbour and city views.