Hong Kong Victoria Harbour
Hong Kong (Chinese: 香港 , Pinyin: Xiang Gang)

7,026,400

1,104square km (426 square mile)

The contrasts in Hong Kong are extremely fascinating, of more than 7 million people in habiting here most are Chinese but many Pakistanis, Indians, Europeans and many other nationalities call Hong Kong their home. Hong Kong, is really the area of playing Amongst Skyscrapers.
As one of the most popular tourist sites in Hong Kong, Victoria Harbour is famous for its impressive views and wonderful public shows. It is flanked by impressive skylines. Tsim Sha Tshui lies on one side while the Skyscrapers and Victoria Peak occupy the other.
Panoramic Sight

Victoria Harbour is famous for its magnificent panoramic sight. The tower on the Victoria Peak is the best place to get the bird's view of the beautiful scenery of Hong Kong, and vistas from Tsim Sha Tsui and culture centre are also very nice. A great many of people go for rides on the Star Ferry to see the harbour.
Public Shows

There are several major public performances have been held at the harbour. On the second night of the Lunar New Year, thousands of visitors gether in this place to enjoy the wonderful pyrotechnics.
'A Symphony of Lights' is also a very popular show held at the place, which integrates of audio, lights and pyrotechnics, making the show very interesting.
Victoria Harbor at Night

Victoria Harbour is an ideal place for people to enjoy after a busy day, its amazing night views enthral the onlookers. Technicolor lights reflecting from the skyscrapers onto the dark water make a fascinating sight. The grand night views of the Victoria Harbour can't be imagined and it can only be enjoyed by personal presence. One can never forget it in a life time after soaked in the view.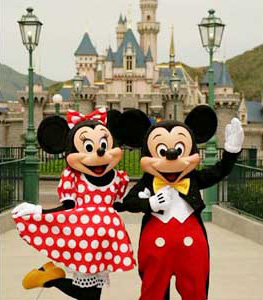 Disneyland in Hong Kong, credited as the first theme park of China, is different from other disneylands of the world, for it has natural backdrop of verdant mountains and undulating landscape.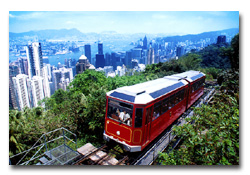 Victoria Peak is high above Hong Kong Island on the 'back of the Dragon', Victoria Peak is Hong Kong's premier visitor attraction, providing magnificent harbour and city views.