Shandong Cuisine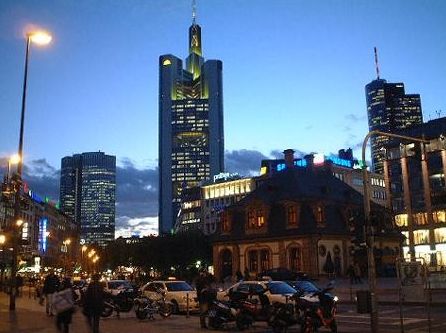 Shandong (Chinese: 山东, Pinyin:Shāndōng)

94,000,000

156,700 square km (60,500 sq mile)

Shandong Province is located in the lower reaches of the Huang He (Yellow River) and extends out to sea in the form of the Shandong Peninsula.
Overview
Shangdong cuisine is also called Lu cuisine, Jinan, Jiaodong, and Confucius Mansion Cuisine are the three branches of Lu cuisine, the typical one is Jinan cuisinne, which is famous for its frying and cooking techniques and overall excellence in color, smell, tast and shape. It features careful materials selection, fine cutting and slicing skills, moderate flavor, adept at heating. The cooking methods include deep-frying, grilling, pan-frying, stir-frying, stewing, braising, etc.
Know more
Jinan Cuisine
Jinan Cuisine, which is one of the three major branches of Shandong cuisine, is famous for its frying and cooking techniques and excellent color, smell, taste and shape. A saying goes :" Of a hundred well-prepared dishes, each dish has its own unique taste and shape." Jinan cuisine is also noted for soup dishes, such as Tremella Soup. The most representative local dishes include Sweet and Sour Carp from Daming Lake, Stir-fried Prawn, Stir-fried Kidneys, etc.
Confucius Mansion Cuisine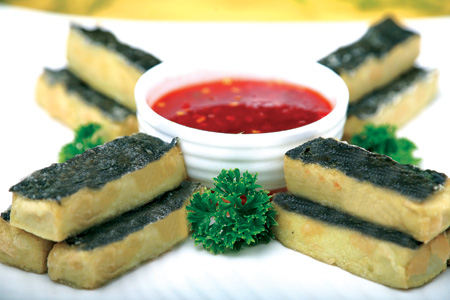 As one of the three major branches of Shandong cuisine, Confucius Mansion Cuisine is a typical official style of China, integrating all the characteristics of the cuisines of south and north China. In ancient times, the Mansion of Confucius had two kitchens: One prepared food for Confucius and his family members; another, for large banquets, sacrificial rites, festivals and celebrations. Apparently Confucius was a picky eater and stipulated in great detail how each dish should be made. His descendents developed Confucian cuisine which tends to be light and clear. Good samples of this cuisine are Kongmen Doufu, a type of tofu; Yangguan Sandie and Shili Yinxing. Mutton kebabs are found throughout the streets and the night markets.
Must try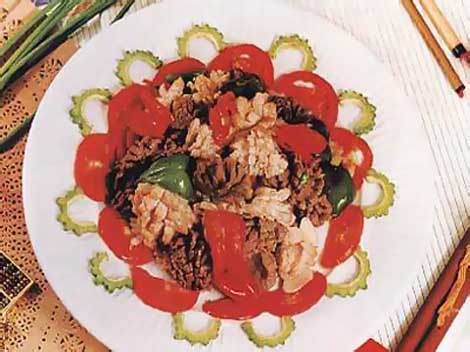 Fried Chilin Fish
Chililn Fish is a kind of exclusive wild carp of Mount Tai. It lives in the streams of Mount Tai at the altitude from 270 to 800 meters. It is popular with people for its tender meat, no smell and high nutrition value and seldom small bones. Tai'an people Fry the excavated Chilin Fish with seasons full of local flavor to make the fish crisp exteriorly and tend interiorly. The Fried Chilin fish is in the shape of arch and tasted melt in the mouth and moreish.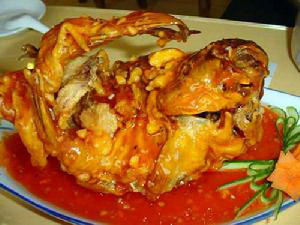 Yellow River Carp

" Yellow River carp" is the traditional dishes of Jinan,Shandong. Jinan close to the north of the Yellow River, so it used in cooking is the Yellow River carp . The fish is grown in the Deep Water of the Yellow River. Both head and tail of the fish is golden, bright body scales, the meat is fat and tender .It became a very welcome dish in the banquet . "This fish is very tasty ,crispy outside and tender inside with a little sour, and soon became the famous food in the restaurant.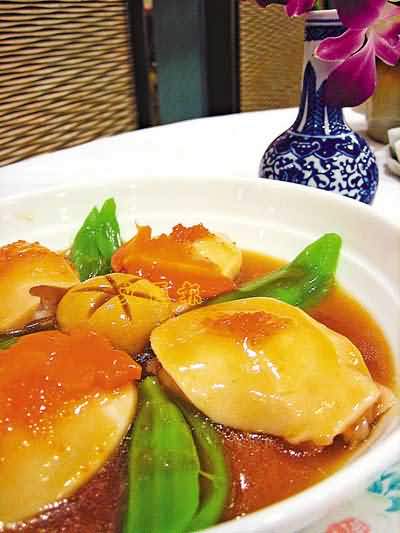 Hibiscus flowers Abalone
The abalone is known as "the champion of the seafood" ,and the most famous one is named as the Large dish abalone which from Yantai Changshan islands."Hibiscus flowers Abalone" Is made with this kind of abalone , which together with some chicken, fat meat, egg .The dish with beauty shape, clear soup, fresh and delicious.