Spring Festival in Anchang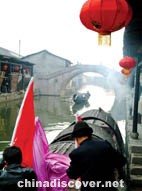 Anchang is a charmingly sleepy little waterside town northwest of Shaoxing that retains much of its original architecture. At Spring Festival, the Folk Customs Festival is the highlight of Anchang's celebrations. This small town receives few foreign visitors and, other than at weekends and on major national holidays, not many Chinese, either. As yet unsullied by tourism, Anchang is a rare touristic treasure.

Shaoxing is best known as birthplace of one of China's most respected modern writers, Lu Xun, whose novels are mostly set in this tranquil city.

Like other south China river town, Anchang is characterized by small bridges over a flowing river that has houses on its banks. Black canopy boats drift along the river spanned by an arch bridge, alongside which is a long shed that functions as a market. As mentioned in Lu Xun's works, Shaoxing elders wear black felt hats.

The long riverside shed is the best place to experience life in Anchang. This multi-functional public space serves as a market, passage and living space where people cook, eat and labor.

If you feel tired and thirsty, go and sit at the long black table in the teahouse under the shed and drink a refreshing blue and white porcelain cup of tea. Amid the rising vapor and aroma, the tea is reflected on an overhead beam, reminiscent of the poem The slanting sun-rays cast a lingering glow, the broad river in its continuous flow.

Tips
1.In January 2005, visitors to the Folk Custom Festival enjoy walking around the old streets and taking trip down the river tour in a black canopy boat. Performances in the eastern section of the old street include bucket hooping, bamboo weaving, iron forging, sole stitching, cross-stitching, and cotton spinning. Local residents celebrate the traditional Spring Festival in their own way: husking glutinous rice to make New Year cake, glutinous rice dumpling, sausages and sweets. There is also village opera, the Shaoxing Lotus Flower Fall (folk song), waist drum dances, riddle guessing, wedding customs and a birthday feast.

2.Take Bus No. 118 from Shaoxing city proper to Anchang. Local specialties are sausage, white sugar, and air-dried bamboo shoots. Allow half a day for this tour.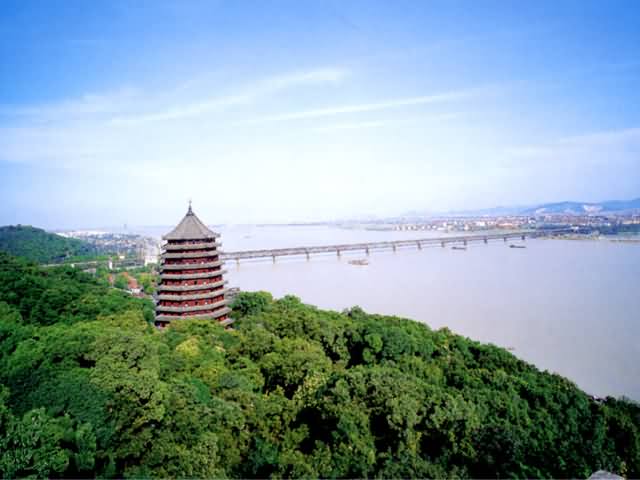 Now near Six Harnonies Pagoda, a Garden of Chines Ancient Pagodas with more than 100 pagodas and towers in various dynasties has been constructed to display Chines pagida culture integratedly.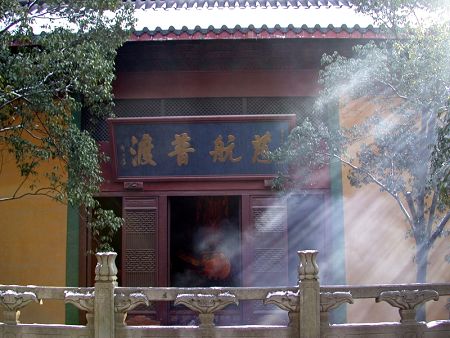 The entrance to the Lingyin monastery is lined with hundreds of rock grottos that contain detailed religious rock carvings of the big-bellied "Laughing Buddha."