Fuchun River

The FuChun River in central ZheJiang is another name of the section of the QianTang River between Tonglu and Wenyan in Xiaoshan County.
Traveling west along the Fuchun river, the Fuchun River-Xin'an River Scenic Area comes into view.

This scenic area is a combination of natural scenery and historic sites. Along the tour route caves, groves, springs, waterfalls, rivers, lakes, mountains and rocks can be seen.

Along the Fuchun River are mountains, including such attractions as Fuyang's Guanshan Mountain and Tianzi Ridge, Tonglu's Tongjun Mountain, Yaolin Cave, Yan Ziling's Fishing Terrace, and Hulu Waterfall. Xin'an River water is crystal clear all year round, and along the route are the Baisha Bridge, Zhuchi, Luofeng Mountain, Meicheng and the Twin Pagodas.

As they drift along the river, tourists might feel they are entering a mobile landscape painting, and consequently take delight in scenery pleasing both to the eye and to the mind.The farther you travel up along the river, the greener the water becomes just like a green bend zigzagging among mountains and peaks. The major scenic sights along the river are Crane Hill (Heshan), Heavenly Prince Ridge (Tianzigang), Tongjun Hill, Fishing Terrace of Yan Ziling, and Eastern Han Dynasty official who once sought seclusion in Fuchun River area, Calabash Waterfall (Hulupubu) and Double Pagodas Piercing Clouds (Shuangtalingyun). Crane Hill, so named because a rock down the hill resembles a crane, is enshrouded in green trees. A tower, called the First Tower in the Fuchen River area, stands on the hillside facing the river and commands a good view of the river where junks are sailing along and birds flying over the water. Tongjun Hill rises abruptly on the riverside with a pagoda erected in the green woods on the hill. The hill appears quite lofty when looked up at from a boat on the river.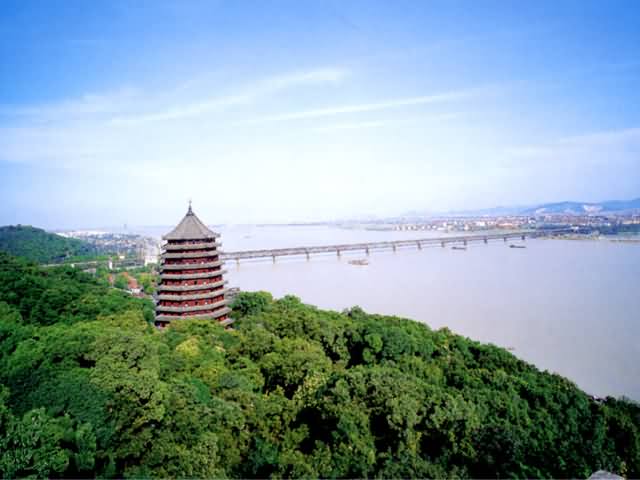 Now near Six Harnonies Pagoda, a Garden of Chines Ancient Pagodas with more than 100 pagodas and towers in various dynasties has been constructed to display Chines pagida culture integratedly.