Shanghai Weather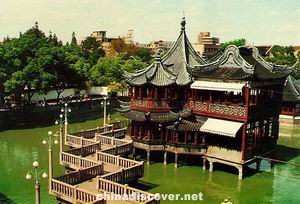 Shanghai (Chinese: 上海)

Municipality 19,213,200

31°12′0″N 121°30′0″E

on China's central eastern coast

Originally a fishing and textiles town, Shanghai grew to importance in the 19th century due to its favorable port location and as one of the cities opened to foreign trade by the 1842 Treaty of Nanking.
Shanghai has a humid subtropical climate, which is heavily influenced by the monsoons. The average temperature of Shanghai hovers at around 15.7 degrees Celsius.
Shanghai climate
Shanghai has a humid subtropical climate. Shanghai weather is dominated by all the four seasons, with freezing temperatures during the winter season and a 32 degrees Celsius (90 degrees Fahrenheit) average high during the hottest months of July and August. Temperatures extremes of -10C (14F) and +41C (105F) have been recorded.
Summer starts in the month of June. The months of July and August are the hottest, recording an average high of 32 degrees. In spite of being hot and humid, summer is the peak season for tourism. Summers experience torrential rain quite frequently. Summer is the peak tourist season, but is hot and oppressive, as the humidity makes it almost impossible for people not used to the environment to breathe properly. Clothes tend to get fairly wet after minutes of walking.
In Summer, often during a year, the city experiences a few spells of typhoon. The cyclone inflicts a considerable amount of damage to the city.
Spring starts in March. The weather in spring, although considered the most beautiful season, is highly variable, with frequent rain and alternating spells of warmth and cold.
Autumn is generally sunny and dry, and the foliage season is in November.
Winters are typically grey and dreary, with little or no snowfall. Shanghai winters are at times very chilly. Winter temperature often tends to drop below zero and records minus temperatures.
The best time to visit Shanghai
The best time to travel to Shanghai is April to October, when the trees and flowers of this garden city are green and in full bloom.
Shanghai weather record
| Month | Avg. High | Avg. Low | Avg. Precip |
| --- | --- | --- | --- |
| January | 8.0° C | 1.0° C | 3.81 cm |
| February | 9.0° C | 2.0° C | 5.84 cm |
| March | 13.0° C | 5.0° C | 8.13 cm |
| April | 19.0° C | 11.0° C | 10.16 cm |
| May | 24.0° C | 16.0° C | 11.43 cm |
| June | 27.0° C | 20.0° C | 15.24 cm |
| July | 32.0° C | 25.0° C | 12.95 cm |
| August | 32.0° C | 25.0° C | 13.21 cm |
| September | 27.0° C | 21.0° C | 15.49 cm |
| October | 22.0° C | 15.0° C | 6.10 cm |
| November | 17.0° C | 9.0° C | 5.08 cm |
| December | 11.0° C | 2.0° C | 3.56 cm |
Shanghai weather forecast