Yu Garden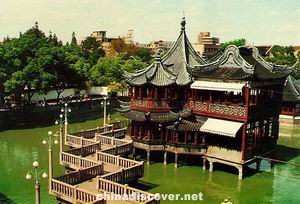 Yu Garden is a classical garden in downtown Shanghai, boasts a history over 400 years. Each pavilion, hall, stone and stream in the garden is expressing the quintessence of South China landscape design from Ming and Qing Dynasty.
Over forty spots, divided by dragon walls, wound corridors and beautiful flowers, form an unique picture featuring "one step, one beauty; every step, every beauty."
Yu garden is reputed to be the most beautiful garden south of the Yangtze River. Built beside the Temple of the City God and covering only fives acres, it follows the Suzhou garden design of a world in microcosm, with 30 pavillions linked by corridors, artificial hills, bridges over lotus pools, groves of bamboo and walls occupied by stone dragons. The surrpounding bazaar is packed with traditional and modern shops, restaurants and temples.
Highlights of Yu Garden
Huxinting Teahouse
Stepping into Yu Garden, across the bridge is the famed Huxinting Teahouse. This massive structure dominates the Yu Garden skyline, with massive upturnd eaves, this building was originally built in 1784 and became a teahouse just before the turn of the 19th century. The restaurant inside the five-sided structure is as famous as the dignitaries that have poked their chopsticks into the restaurant's rice bowls.
Yu Garden
Across the pond from the teahouse is the Yu Garden, the garden was built by the Pan family, powerful officials of the Ming dynasty. Built between 1559 and 1577 as part of their estate, this typical southern-style garden was destroyed several times and later restored to its former glory. One defing feature of southern gardens is the carefully created sense of space within small confines using narrow lanes, strategically placed partitions and windows that provide frames for portrait views.
Chenghuang Temple
Chenghuang Temple, the temple to Shanghai's city god. Each Chinese city used to have a city god based on the Taoist pantheon to Chinese deities and they were worshipped in these colorful temples. Loud, crowded and full of eager worshippers, these temples were rambunctions places where people would gather in front of their preferred god and pray for health and wealth, and being Shanghai, perhaps more for wealth.
Originally the Jinshan Temple, it was rebuilt dring the reign of Emperor Yongle of the Ming Dynasty in the 13th century. The temple was refurbished again in 1926 and today, still drenched in incense smoke, it contunues to attarct worshippers.