Linan City

Linan city lies to the South of Tianmu Mountain, which is in the Northwest of Zhejiang province. Lying east to Hangzhou and west to Yellow Mountain, Lin'an is the key door between Zhejiang province and Anhui province. It is also the trade centre between the two provinces. It is the only one mountain area city within Changjiang delta. Lin'an has an area of 3,126.8 square km, a population of 500,000 and the jurisdictional area including 15 towns and 24 villages. In 1986 the State Council authorizes it as the coastal developing economical city. Rich natural resources, abundant rainfall, warm climate, all of these make its percentage of forest cover up to 71.3%. It has such an advantageous ecological situation that it breeds more than 4,700 biological species. Tianmu Mountain has a reputation of 'species gene treasure store'.

Mountains, lakes, forest, hot spring, corrosion caves, Buddhist temple and other ancient remains make Lin'an be a great place of green treasure ground shining in Changjiang delta. Since ancient time, Lin'an ten scenes, Tangchang ten scenes and Yuqian eight scenes have been famous. Tourist scenes are scattered from west to east, within several hundred kilometers. They are Longtang Mountain, Daming Mountain and Rijing Cave, Tuanko Hotspring, Tianmu Mountain and Yuewang Hill, Linglong Hill, Tomb of King Qian, Qingshan Lake and Dongxiao Cave.

Tianmu Mountain
As a crystal and shining "green jade" casting in the middle of coastal China, Tianmu Mountain National Nature Reserve sits in the northwest of Tianmu mountain range of Zhejiang Province. It is within the municipality of Lin'an, with the latitude ranging 30.3 degrees N and the longitude 119.4 degrees E. The reserve is also at the north edge of central-subtropical zone. It covers an area of 4,284 ha, comprising of a core zone of 676 ha, a buffer zone of 951 ha, anda transition zone of 2,497 ha. About 88.2% of the reserve's area is forest-covered. In 1956, the area was zoned by the Ministry of Forestry of China as a non-logging area. In 1986, the area was approved by the State Council as a national nature reserve. In 1996, it became a member of the UNESCO's 'Man and Biosphere Reserve Network'. The reserve has moved onto the new arena of international collaborations ever since.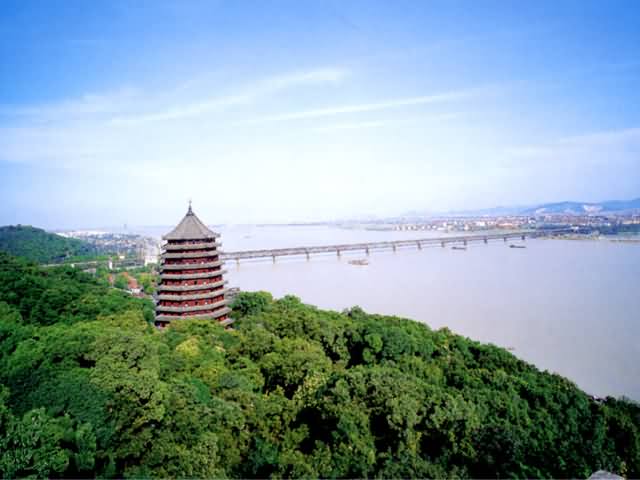 Now near Six Harnonies Pagoda, a Garden of Chines Ancient Pagodas with more than 100 pagodas and towers in various dynasties has been constructed to display Chines pagida culture integratedly.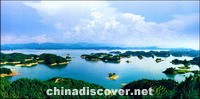 Qiandao Lake is a giant lake with literally 1000 small islands. Many of these islands are developed for tourism. The water is so clean that a major mineral water processing plant...