Qiandao Lake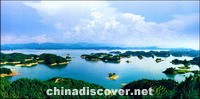 Overview
Located in Chun'an County, Zhejiang, China, Sprinkled with its clear, and sometimes, drinkable water, such as that used to produce the renowned Nongfu Spring brand of mineral water, Qiandao Lake is famous for its nature reserves which are home to lush forestation (over 90%), and exotic islands. There are 1,078 large islands in the lake and a few thousand smaller ones. The more popular attractions include Bird Island, Snake Island, Monkey Island, Lock Island (featuring supposedly the world's biggest lock), and Island to Remind You of Your Childhood.
Know more

Qiandao Lake is one of the first-class national scenic spots and the largest national forest park at present. The lake covers five hundred and seventy square kilometers including over one thousand islands of different sizes. Besides the surrounding rare animals and plants, it is also famous for its water, like an art gallery of nature, vast of crystal clear waters reflect the pale green trees, flying birds and the blue sky with ever changing clouds flowing lazily. To really appreciate the serenity of the islands and hills, days are not enough.
More than visiting, water here can be drink directly, The average depth of the water is more than one hundred feet and the visibility in the water is twenty two to twenty nine feet. So it tasted cool and a bit sweet indeed. Local people love to use this water to boil tea and make cuisine, such as Steamed Mandarin Fish, Sister Song's Fish Broth, and so on.
Must see
Plat Blossom Mountain
Set in the middle of the lake; this is the best part of Qiandao Lake, named after five conjoined mountains. It resembles a plat blossom and has gained fame for its beautiful natural scenery and perfect environment. The sight-seeing platform in this section is by far the best place to view the surrounding area. The other one is Ostrich Island. On this island visitors can feed ostrich, take photos with them or even ride on their backs.

Stone Forest
,p>This section is located forty kilometers from the town centre of Qiandao Lake and is made up of three parts: Xishan part, Turquoise part and Hawksbill part, covering ten square kilometers. It is called "the first stone-forest in Huadong Area". With strange stones, cliffs, elf caves and an ancient path, it is characterized by an otherworldliness that is hard to find anywhere else.
Dragon Hill (Long Shan)
It consists of Dragon Hill and Five-Dragon Island. The Hairui Temple was built here by the Chun'an people to commemorate Hairui, a famous official of the Qing Dynasty (1644-1911), who once served as head of this county. Hairui Ci is the essential structural work piece, including carving of wood, stone and brick. There also are over twenty pieces of poem steles in Hairui Ci. On the top of the Dragon Hill stands a bell tower.
Xian Hill (Xian Shan)
Xian Hill lies in the southeast area of the lake, including Xian Shan, Tian Chi (a pond), Guihua Island (Guihua Dao) and Mi Hill (Mi Shan). Xian Hill has trees which bear fruit all year round. Scenery on other parts of the hill is also charming and beautiful.