Ningbo City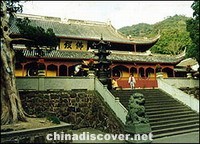 Ningbo is a tranquil coastal city, its 500-km coastline forming a scenic seascape. The Hemudu Culture of 7,000 years ago records the lives of ancient ancestors that inhabited the region, and the Sun and the Moon Lakes, dug in the seventh century, are a particularly beautiful sight. The people of Ningbo have throughout their history had a deep affinity for the ocean. Two thousand years ago, Xu Fu, a necromancer of the Qin Dynasty (221-207 B.C.), led a fleet from here, thus becoming the first to commence China's exchanges with other countries. In the early 20th century "Hong-band" tailors from Ningbo traveled extensively throughout China making their living.

In Ningbo 500 years ago, two Japanese commercial vessels berthed in the port, one being a "tribute envoy" ship. Because of "improper coordination" on the part of the Ningbo Boat Administration, then in charge of overseas trading, a historic tribute dispute occurred between China and Japan. In the period that followed, Ningbo Port opened and closed several times, due to the threats of foreign invaders. In 1840, Opium War gunfire opened the door to Ningbo Port once more, as it was one of the five treaty ports opened to overseas trade. Since then, Ningbo has played an important role in Chinese foreign trade.

On June 1, 1979, Ningbo Port was declared by the state government as open to the outside world, thus establishing a new chapter in the city's development.

Ningbo is an old port with a history of more than 1,200 years. Over the past two decades it has rapidly developed, to the extent that it is now a facet of modern trade and society. From 1980 to date, the number of berths in the port with a capacity of over 500 tons has increased from 11 to 62, and 26 of these have a handling capacity of more than 10,000 tons. There are also times when one might witness the grand spectacle of a 300,000-ton ship berthing in this port.

Ningbo Port includes the Beilun, Zhenhai and old Ningbo harbor. It is now a comprehensive, multi-functional, modern port comprising riverine and sea harbors. It has navigation routes to some 500 ports in more than 80 countries and regions. In 2000, it realized a commodity handling volume of over 100 million tons, maintaining its second place among all Chinese ports for the third consecutive year.

Ningbo Port has good natural conditions. The navigation channels for berthing and departure are 30 to 100 meters deep -- capable of meeting the requirements of 200,000 to 300,000 ton ships. Meanwhile, 120 kilometers of its deep-water coastline with excellent development potential is undergoing exploration. Situated where the Yangtze River meets the sea, and on the inner side of the Zhoushan Islands, Ningbo Port has a calm water surface, making it an ideal place for port construction. The flat land behind the shore is suitable for storage of goods and for developing coastal industries.

Ningbo's advantageous port conditions constitute one of China's most treasured resources. In 1989, the Chinese central government approved Ningbo's Beilun Harbor as one of its four major international deep-water entrepots. There are currently five entrepot bases under construction, intended for iron, containers, crude and finished oil, and liquid chemical products. To suit the needs of overseas container shipment, four large container berths are now being built at Beilun.