Wuzhen Old Town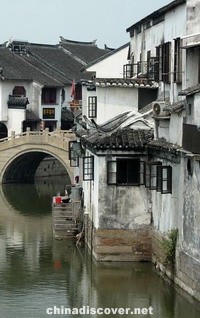 In the south of the Yangtze River Delta, there are many ancient water towns like Wuzhen. They are common in possessing ancient bridges, streets, lanes and delicate residences. But Wuzhen seems to contain richer historical and cultural flavors, maybe because it boasts the most venerated history and most fertile cultures.

Wuzhen Town has a history of 1,800 years. It is located on the northern part of the Hangjiahu Plain, west of the Beijing-Hangzhou Grand Canal. The town contains residences built in different dynasties. Two of its stone bridges were built in the Ming Dynasty (1368-1644), and link at right angles. Standing in front of one of these bridges, it is possible to see the other through its arch, hence gaining it the name "a bridge embraced by a bridge."

Wuzhen is well known for its historical and cultural heritage. Mao Dun, one of the modernist writers of the 1930s, was born here. There are a number of historical sites here in Wuzhen Town, one being the ancient stage in the Xiuzhen Taoist Temple. Built in 1749, it epitomizes typical southern China water town architecture, featuring gabled roofs, upturned eaves and laminated beams. Its vivid and lifelike murals, clay sculptures and woodcarvings depict scenes from traditional operas, and are masterpieces of folk art.

As a water town, Wuzhen features crisscrossing streams lined with residences, and narrow lanes paved with stone flags. From here we boarded a ship to Hangzhou.

History of Wuzhen
According to the cultural relic site unearthed in Tanjiawang, as early as 7,000 years ago, Wuzhen's ancestors began to live here. That period belongs to the New Stone Age's Majiabang Culture.

During the Spring and Autumn Period (BC770-221), Wuzhen is the boundary area of Wu Kingdom and Yue Kingdom. And Wu Kingdom sent station troops to stay here to garrison their land.

During the Qin Dynasty (BC221-206), Wuzhen belonged to Kuaiji Prefecture. With the Che Brook (today's Shi River) as the boundary, the west part was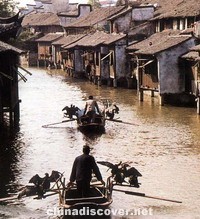 named Wudun, which belonged to Wucheng County, the east part was named Qingdun, which belonged to Youquan County. That was the beginning of the dividing and ruling of Wuzhen. This situation lasted till the year 1950. During that period, Wuzhen was administrated by Zhejiang's Huzhou, Jiaxing or Jiangsu's Suzhou respectively.

In the Tang Dynasty(618-907), Wuzhen belonged to Suzhou Prefecture. In the year of 872, on a stone tablet in Nobility Suojinming's Temple, the name of "Wuzhen Town" was inscribed for the first time. At that time, on another stone tablet in Guangfujiao Temple, the town was inscribed as "Wuqing". That might be the beginning of Wuzhen's history as a township.

In the Later Liang Period (907-923), Wuzhen belonged to Wu and Yue kingdoms. In the year of 940 (Later Jin Period), Xiuzhou Prefecture was established, and Qingdun(Wuzhen) belonged to Jiaxing's Xiuzhou Prefecture.