Yandang Mountain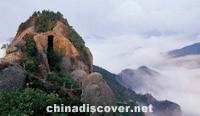 In the southeast of Taizhou, only 60 kilometers away from Taizhou's Huangyan Airport via expressway is the famous Yandang Mountain, a wonder of Nature in Zhejiang Province.

Yandang Mountain rises 1,150 meters high in Leqing County twenty-five kilometers from Wenzhou City in southeastern Zhejiang Province. In Chinese, Yandang means "reed marsh for wild geese" and in autumn wild geese do gather in the marshes around the lake at the top of the mountain. The mountain became known in the early Tang Dynasty and enjoyed greater fame during the northern Song Dynasty, when many temples, pavilions, and other buildings were put up here. The Yandang scenery is dominated by crags, valleys, and waterfalls, and there are said to be about four hundred scenic sights in the five scenic areas that cover some four hundred square kilometers on the mountain. These -- Spirits Peak (Lingfeng), Spirits Crag (Lingyan), and Great Dragon Pond (Dalongqiu) on the southeast part of the mountain -- are considered the "three wonders of Yandang."

Spirits Peak (Lingfeng)
Towering behind Spirits Peak Temple (Lingfengsi), this 270-meter-high peak is also called Husband and Wife Peak (Fuqifneg) because at night it looks like a couple in each other's arms. The Goddess of Mercy Cave (Guanyindong) down the slope is among the most famous of the Yandang Caves. Spirits Peak is surrounded by grotesque peaks and cliffs, which are particularly striking at night.

Spirits Crag (Lingyan)
This screen-shaped crag is otherwise named Screen Clouds Peak (Pingxiazhang). Spirits Crag Temple (Lingyansi) at the base of the cliff, one of the eighteen ancient Yandang temples, was built in 979 in the Northern Song Dynasty. The temple faces two peaks, the Heavenly Pillar (Tianzhu) and the Fluttering Flag (Zhanqi), and to its left is Heavenly Window Cave (Tianchuangdong). Behind the temple are Dragon's Nose Cave (Longbidong) and Little Dragon Pond Cascade (Xiaolongqiupubu). Among the other peaks surrounding Spirits Crag are Double Eagles (Shuangying), Jade Maid (Yunv), and Solitary Beauty (Duxiu).

Three-terraced Falls (Sanzhepu)
Beside Orchid Terrace (Lanhuatai), the falls consist of three levels. Water from the upper and middle levels pour down the rock to a pond; you can observe the falls from behind by following a path built around the pond.