Wind and Rain Bridges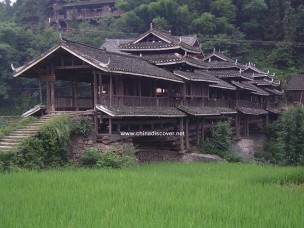 In Guizhou, there are many unique beautiful bridges that was built by Dong ethnic people, and it was considered to be the landmark of Guizhou. These bridges got a beautiful name as Wind and Rain Bridge, which are not only function as passage that connecting two separate land areas, but also provide locals with excellent place to meet, relax, socialize, exchange ideas, and even amuse.
Zhaoxing Flower Bridges
Zhaoxing with five bridges. In fact, the bridge is more of a building across the river and covered with pavilions. As the exquisite sculptures cover the roofs, making them look like flowers, the bridges are also known as "flower bridges". On a rainy day , sitting in the bridge pavillions and chat with friends is one of the most pleasurable experiences.
Sanjiang Chengyang Bridge
Chengyang Bridge is also named as Yongji Bridge or Panlong Bridge. It is one of the artistic precious buildings of Chinese wood architecture. Built in 1916, it was the best one among the wind and rain bridge in Dong stockade villages. At present, Chengyang Bridge is the largest wind and rain bridge in China which showing the Dong people's wisdom.
With magnificant looking , like a brilliant rainbow, the bridge is made from wood and stone, and with 64.4 meters long, 3.4 meters wide and 10.6 meters high. On both side of the bridge, long stools were set up which convenience for people to rest. From the stools one could see the Linxi River windingly flow, on both sides of the river it was full of tea forest and green woods on the sloping hills. This charming bridge attracts flocks of visitors every day.
Heli Renhe Bridage
Renhe Bridage was Construted in 1883. It is painted with beautifu pictures of history and scenery. The entire bridge is made of wood with all mortise and tenon joints, without any iron nails. Wood, stone arches, stone slabs and bamboo are all used in erecting bridges. This kind of "wind and rain" bridge is best-known for its unique architectural style.
Must-see Villages in Guizhou and Guangxi
      Basha      Zhaoxing      Tang'An      Xijiang      Sanjiang      Longsheng     

Frequently asked questions in Guizhou

Questions and answers