Huangguoshu Waterfall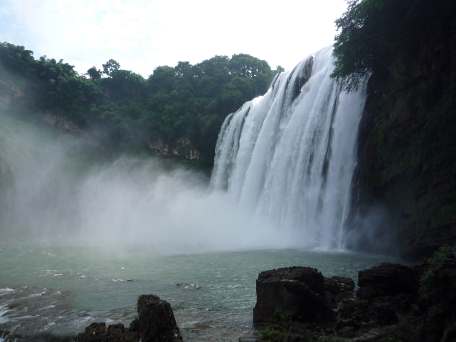 Huangguoshu waterfall, also known as "Yellow Orchard" Waterfall, is the most famous waterfall in China, and the largest waterfall in Asia. With 101 meter wide, and 78 meter high, the waterfall is surrounded by 18 smaller waterfalls in nine layers. The water flows down to the Rhino Pool, presenting a magnificent view.
The waterfalls, which were formed in the subtropical karst limestone region, are named as 'Karst Waterfall'. This charming tourist spot is located at the confluence of Zhenning and Guanling counties, about 45 km from Anshun and 138 km from Guiyang.
Huangguoshu is also known for karst caves, natural miniature landscapes, stone forests on waters, running waters in the high mountains, and the deep and serene valleys. Near the spot, there are a number of fascinating tourist attractions, such as Tianxing Bridge, Stone Village, Dripping Pong and Baling River, each showing its unique style.
A cave 130 meters in length lies behind the Huangguoshu Waterfall, that featuring tiny waterfalls and natural skylights amidst its karst walls. Venturing in, with the thunderous roar of falling water reverberating throughout the cavernous space, you feel you`ve stepped through the looking glass into a moist, timeless wonderland.
It is really an ideal place for hiking, tourists can enjoy an unforgettable experience with the waterfall and the surrounding sceneries. Hiking about nearby hilltops, the rock terraces of Rhino Pool at the base of the waterfall, like so many giant stair steps, come into stark relief.
Must-see Villages in Guizhou and Guangxi
      Basha      Zhaoxing      Tang'An      Xijiang      Sanjiang      Longsheng     

Frequently asked questions in Guizhou

Questions and answers
Huangguoshu Waterfall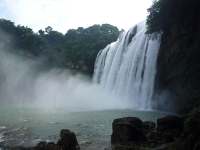 Huangguoshu or "Yellow Orchard" Waterfall is the most famous waterfall in China