Shanghai Tourism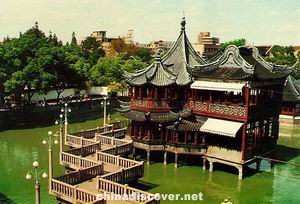 Shanghai (Chinese: 上海)

Municipality 19,213,200

31°12′0″N 121°30′0″E

on China's central eastern coast

Originally a fishing and textiles town, Shanghai grew to importance in the 19th century due to its favorable port location and as one of the cities opened to foreign trade by the 1842 Treaty of Nanking.
Shanghai Overview
Shanghai is an open city on the coast and a famous historical and cultural city, is a gate to the Yangtze River delta. It is a municipality under the direct jurisdiction of the Central Government, the largest economic and trade center, a comprehensive industrial base and the leading port in China.
Shanghai is well known in the world not only for its prosperous cosmopolitan feature but also for its rich humanistic resources. In recent years, a number of modem buildings have been added to the city, such as the Oriental Tower TV Tower, Shanghai Museum, Shanghai Grand Theatre, Shanghai Circus City, Shanghai City-Planning Exhibition Hall and Jin Mao Tower.
Location of Shanghai
Shanghai is situated at 31.14 degrees north latitude and 121.29 degrees east longitude, in the middle of China's east coastline, is a gate to the Changjiang River valley. Bordering on Jiangsu and Zhejiang provinces on the west, Shanghai is washed by the East China Sea on the east and Hangzhou Bay on the south. North of the city, the Yangtze River pours into the East China sea.
Except for a few hills lying in the southwest corner, most parts of the Shanghai area are flat and belong to the alluvial plain of the Yangtze River Delta. The average sea level elevation is about four metres.
Shanghai Visa
From Jan 1, 2013, transit passengers from 45 countries are allow to stay in Shanghai for 72 hours without a visa.
History of Shanghai
In the 16th century, Shanghai became the national center of textile & handicraft industry......More details
Consulates in Shanghai
22 countries have their General Consulates in Shanghai......More details
Airports in Shanghai
Shanghai has two airports: Hongqiao and Pudong International Airport, which has the second highest (combined) traffic in China, following Hong Kong International Airport .
The Hongqiao airport is 7 km away to Downtown Shanghai, the new Pudong International airport opened in 1999, 30 km from the People's Square in downtown Shanghai. The Shanghai Maglev Train is the first commercial maglev railway in the world in 2002, from Shanghai's Longyang Road subway station to Pudong International Airport.
Ports
Great sums are expended to keep open its continually silting harbor. A new deepwater port, Yangshan, located on islands 17 mi (27.5 km) SE of Shanghai in the South China Sea, opened in 2005; the port is connected to the mainland by the Dongbai Bridge.
Railway
Two railways intersect in Shanghai: Jinghu Railway (Beijing-Shanghai) Railway passing through Nanjing, and Shanghai- Hangzhou Railway (Hu Hang Line). Shanghai has two main railway stations, Shanghai Railway Station and Shanghai South Railway Station, with links through those cities to the North and South China networks.
Downtown Transportation
Shanghai has an extensive public transportation system, largely based on buses, and a rapidly expanding Shanghai Metro system.
Shanghai has the world's most extensive bus system with nearly one thousand bus lines.
Taxis in Shanghai are plentiful and market competition has driven taxi fare down to affordable prices for the average resident (RMB 11 or a little over one US dollar for 3 km).